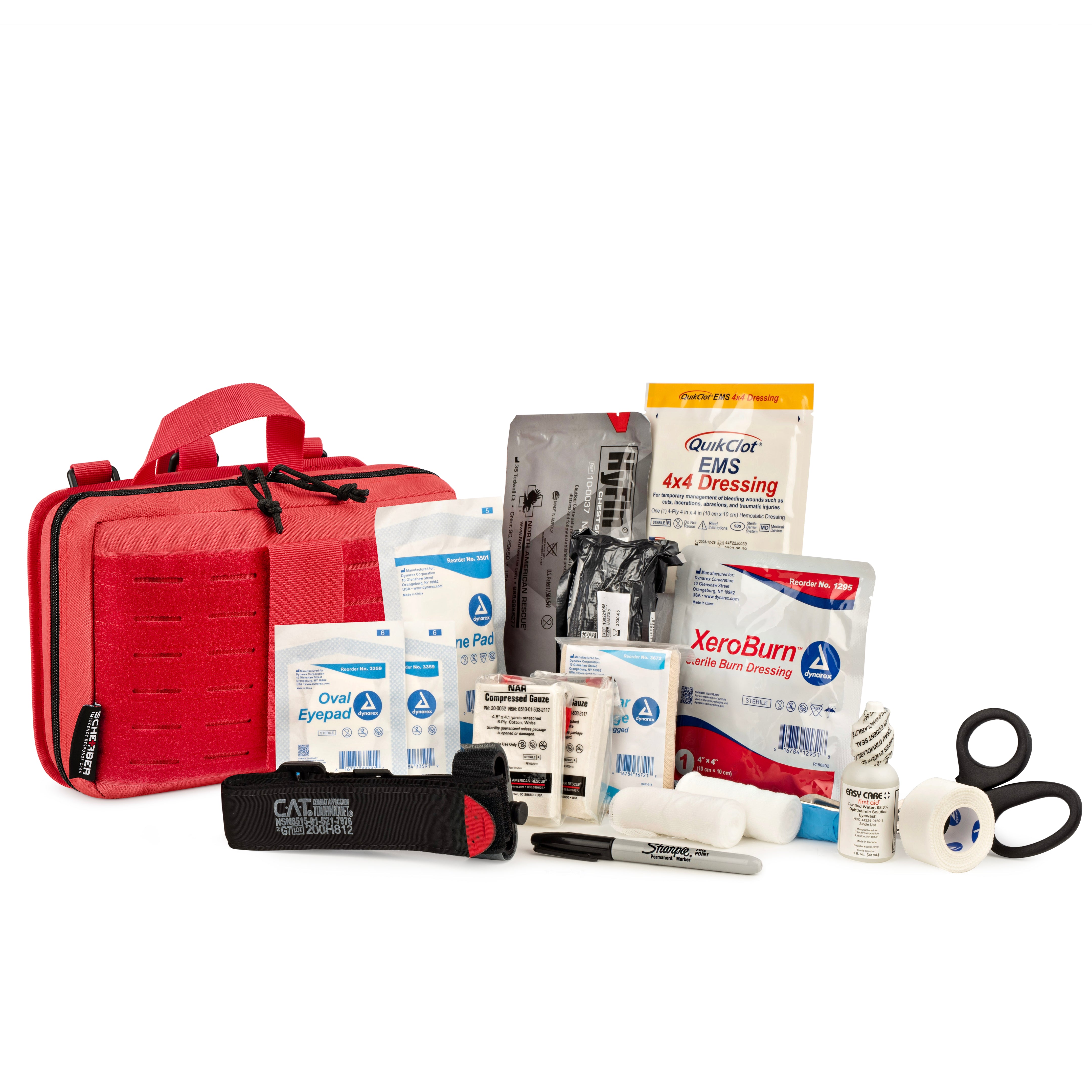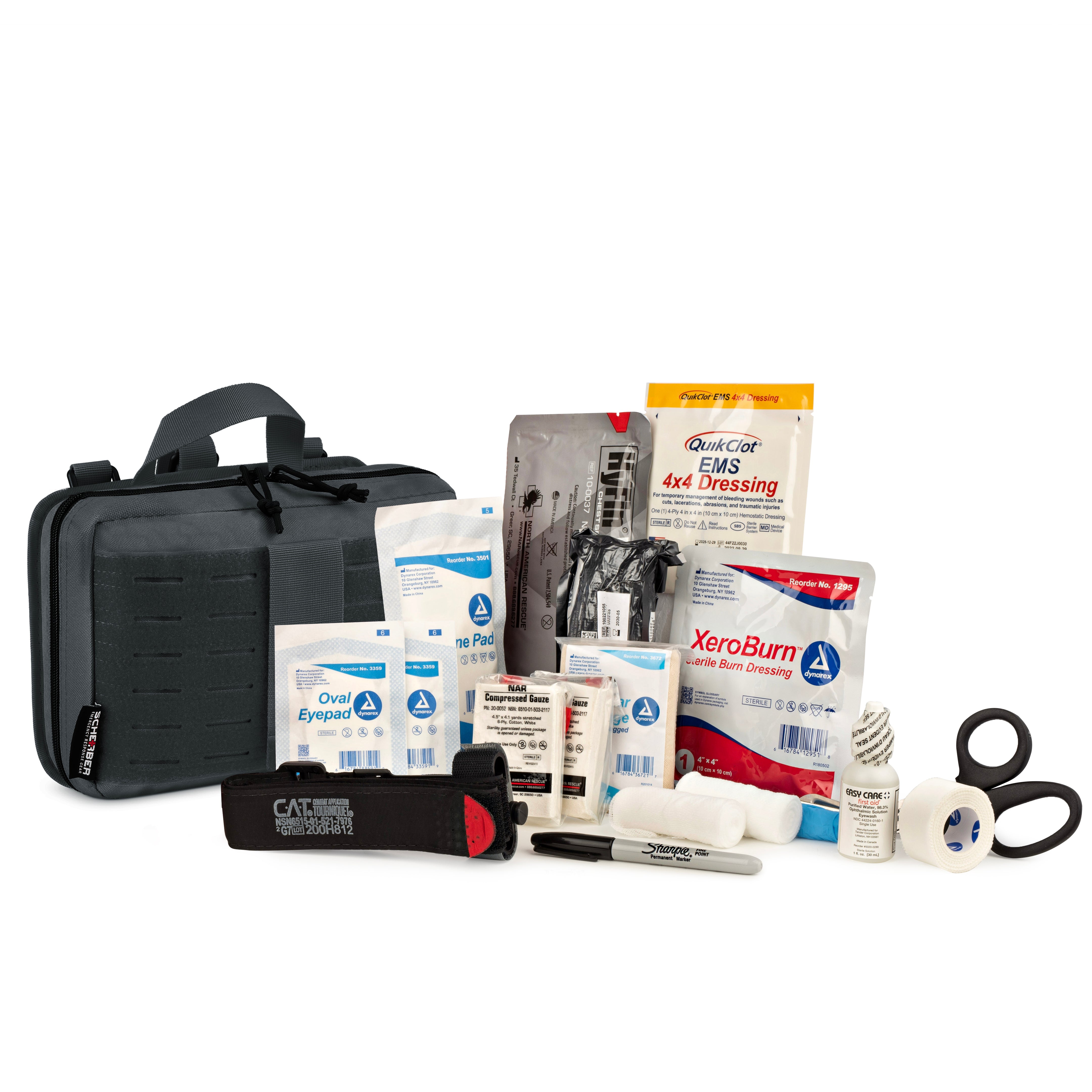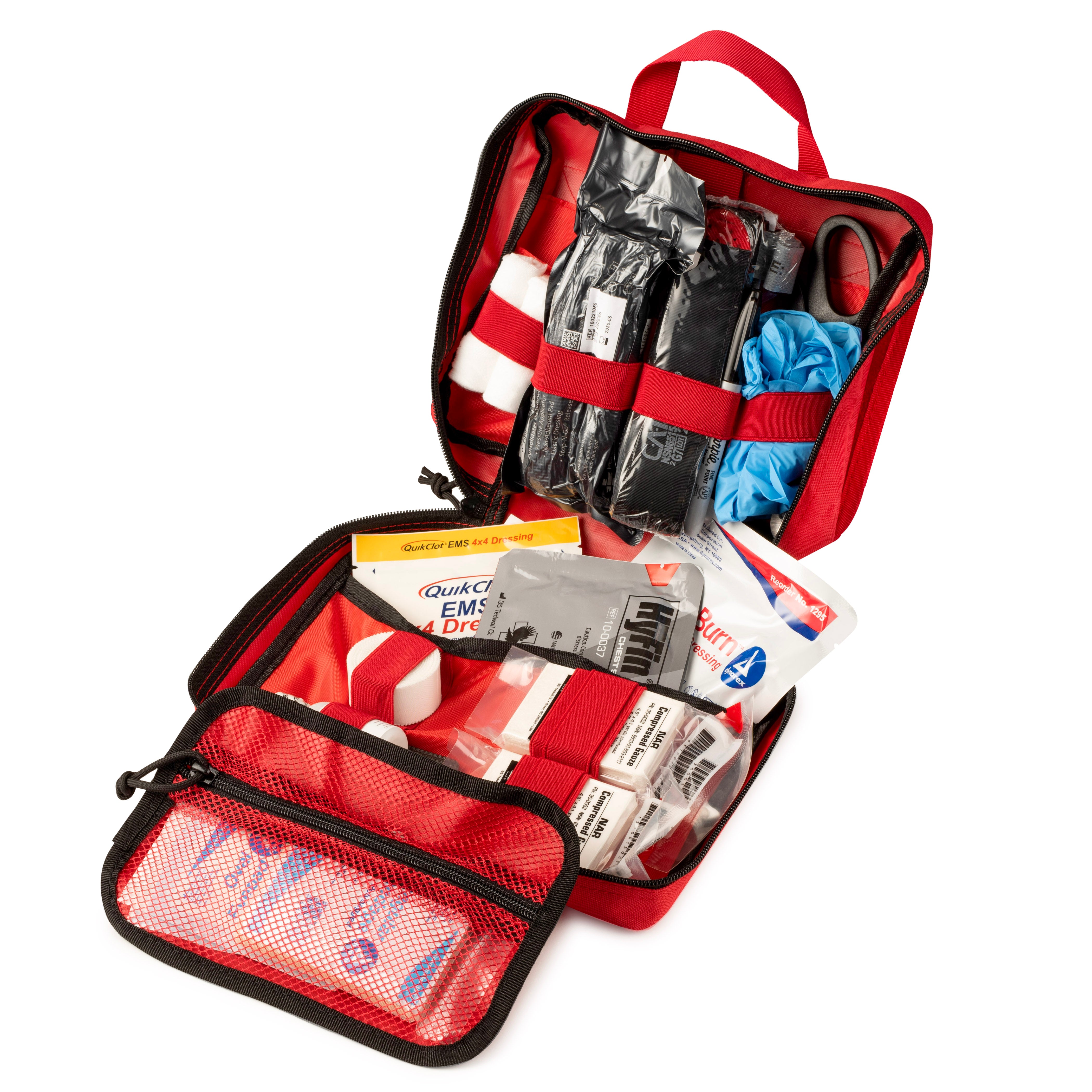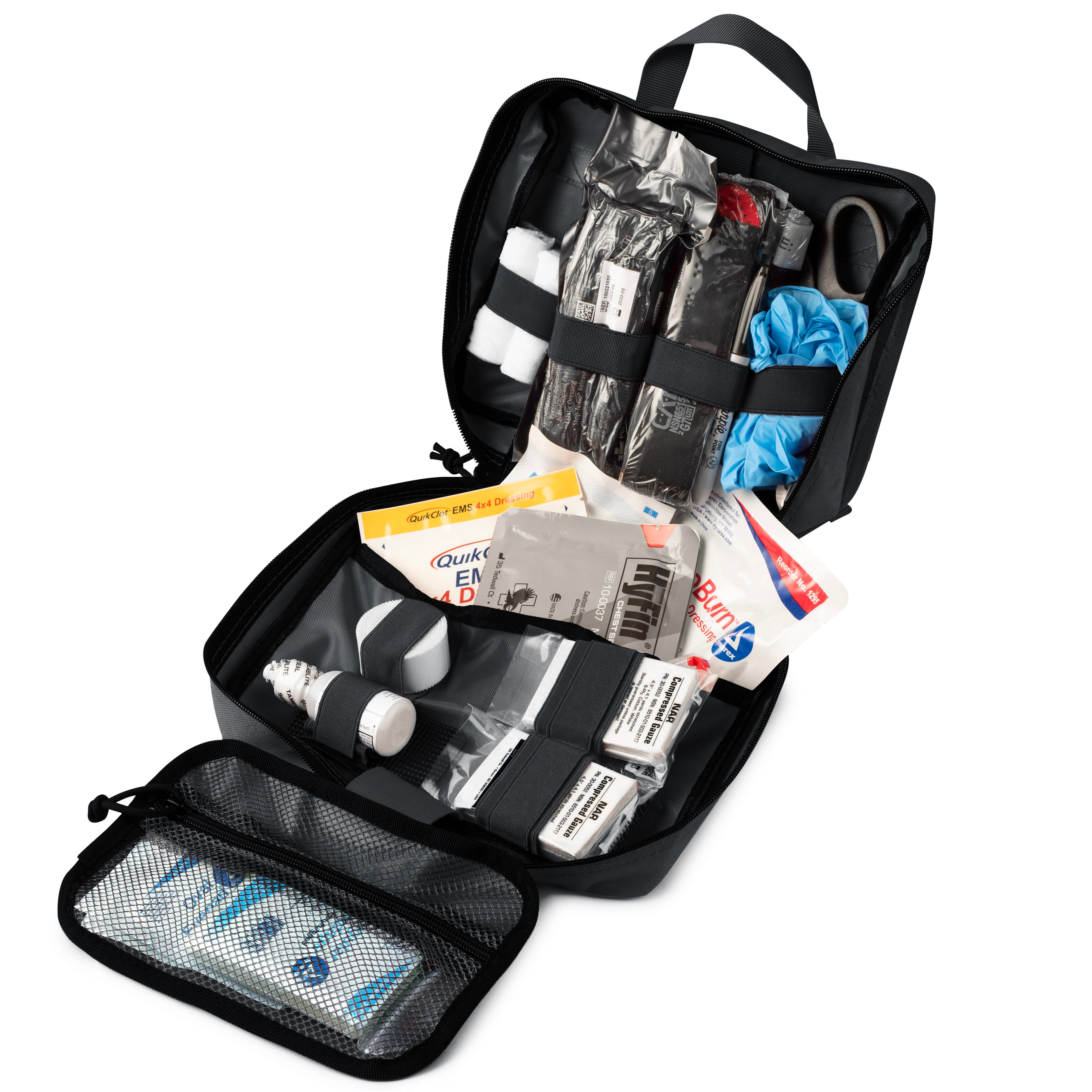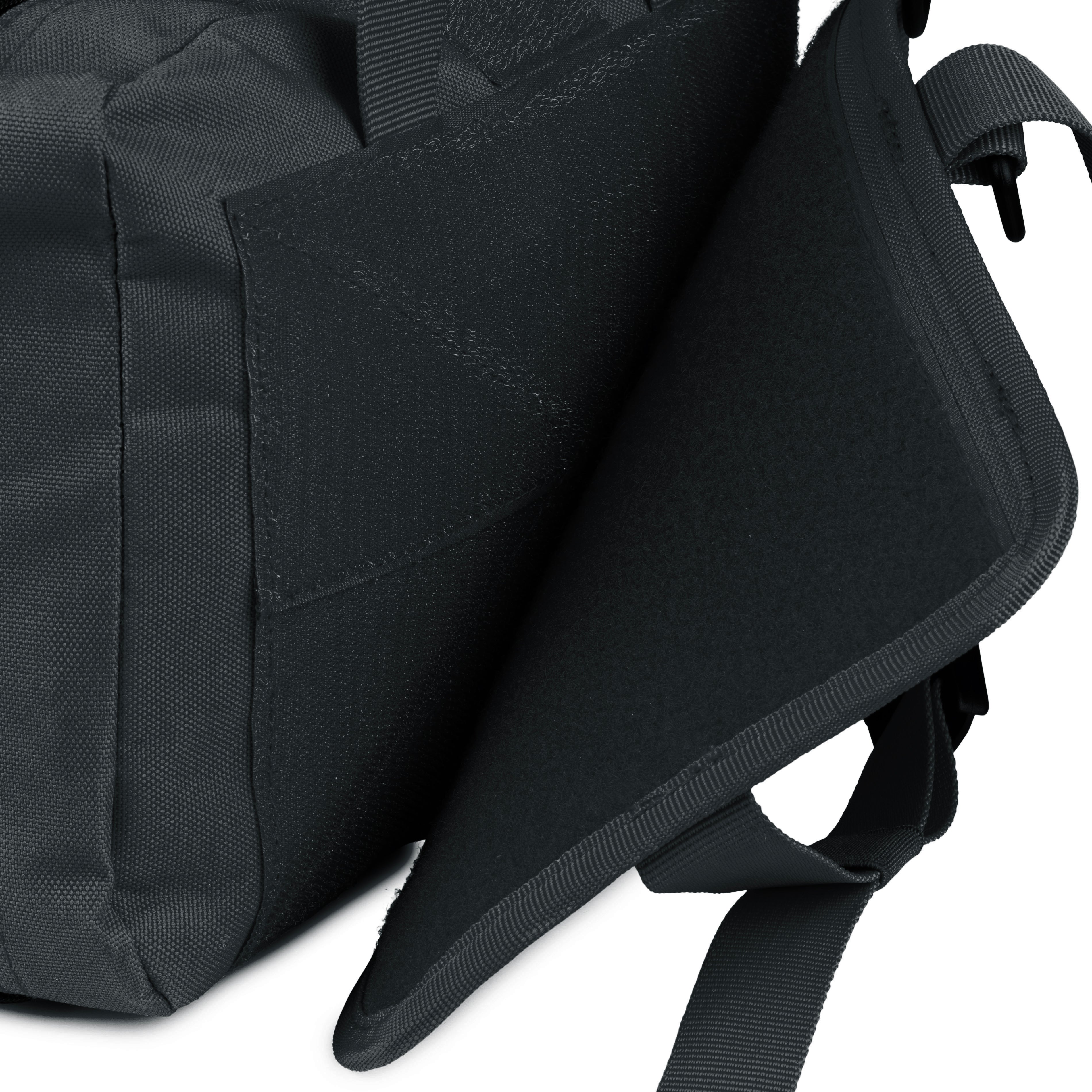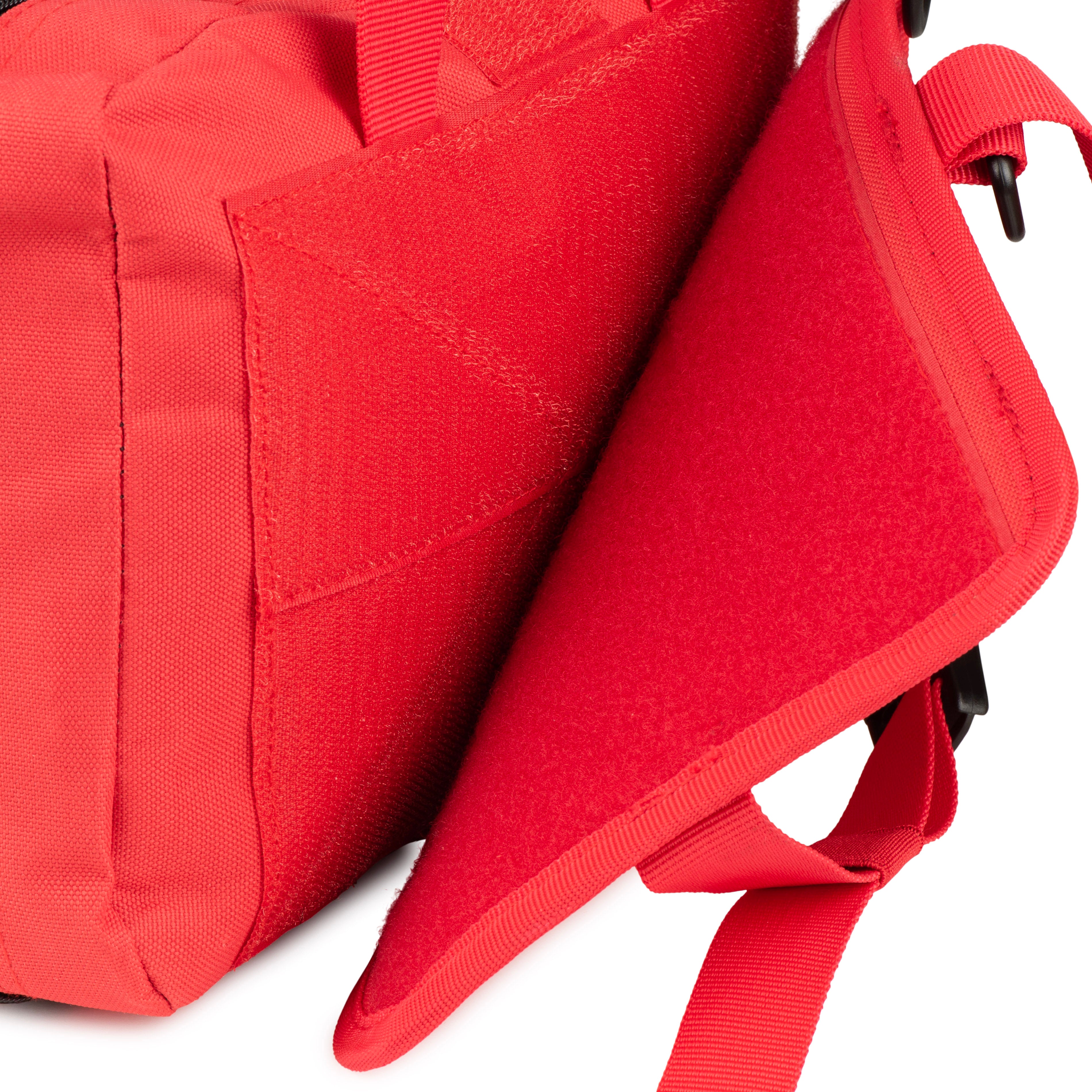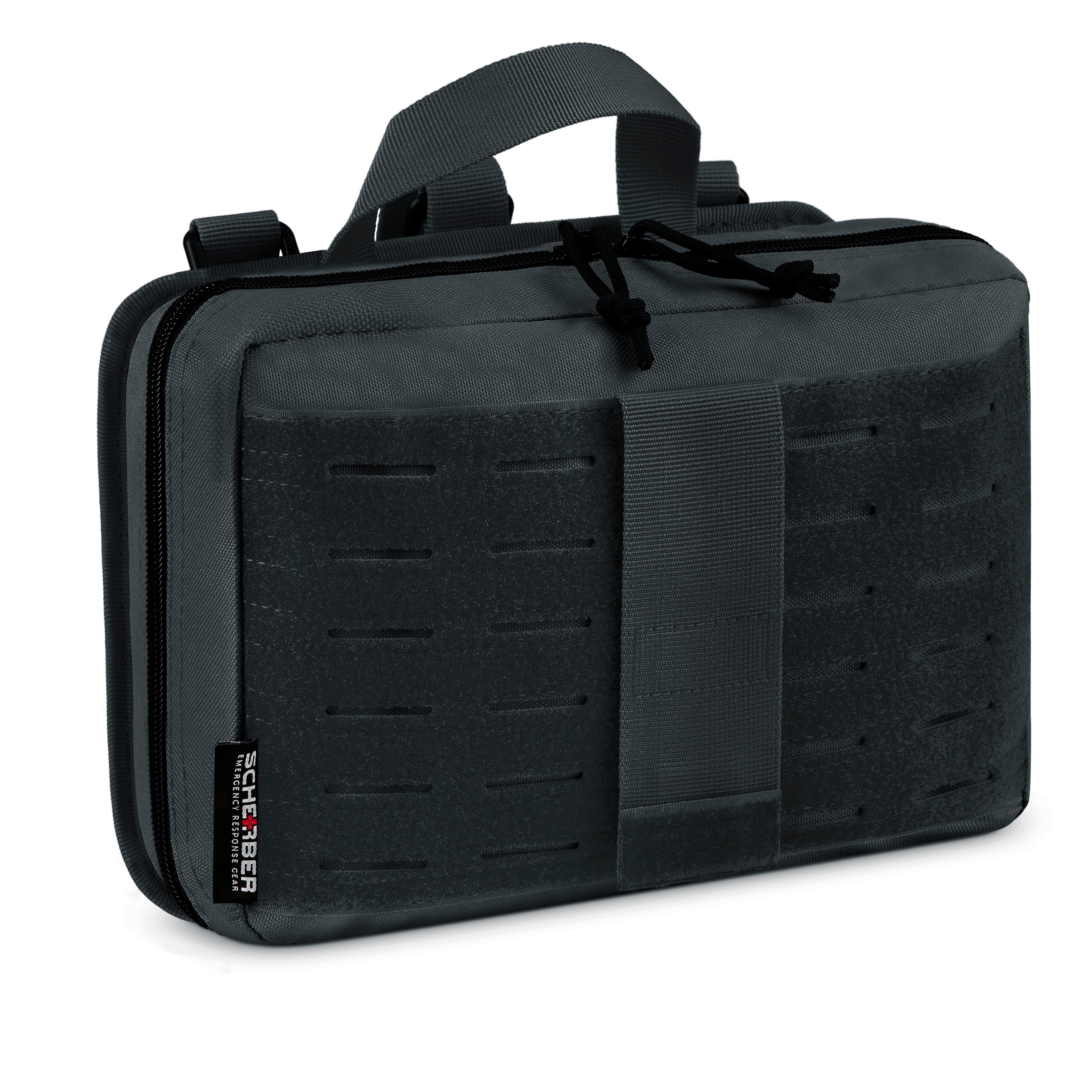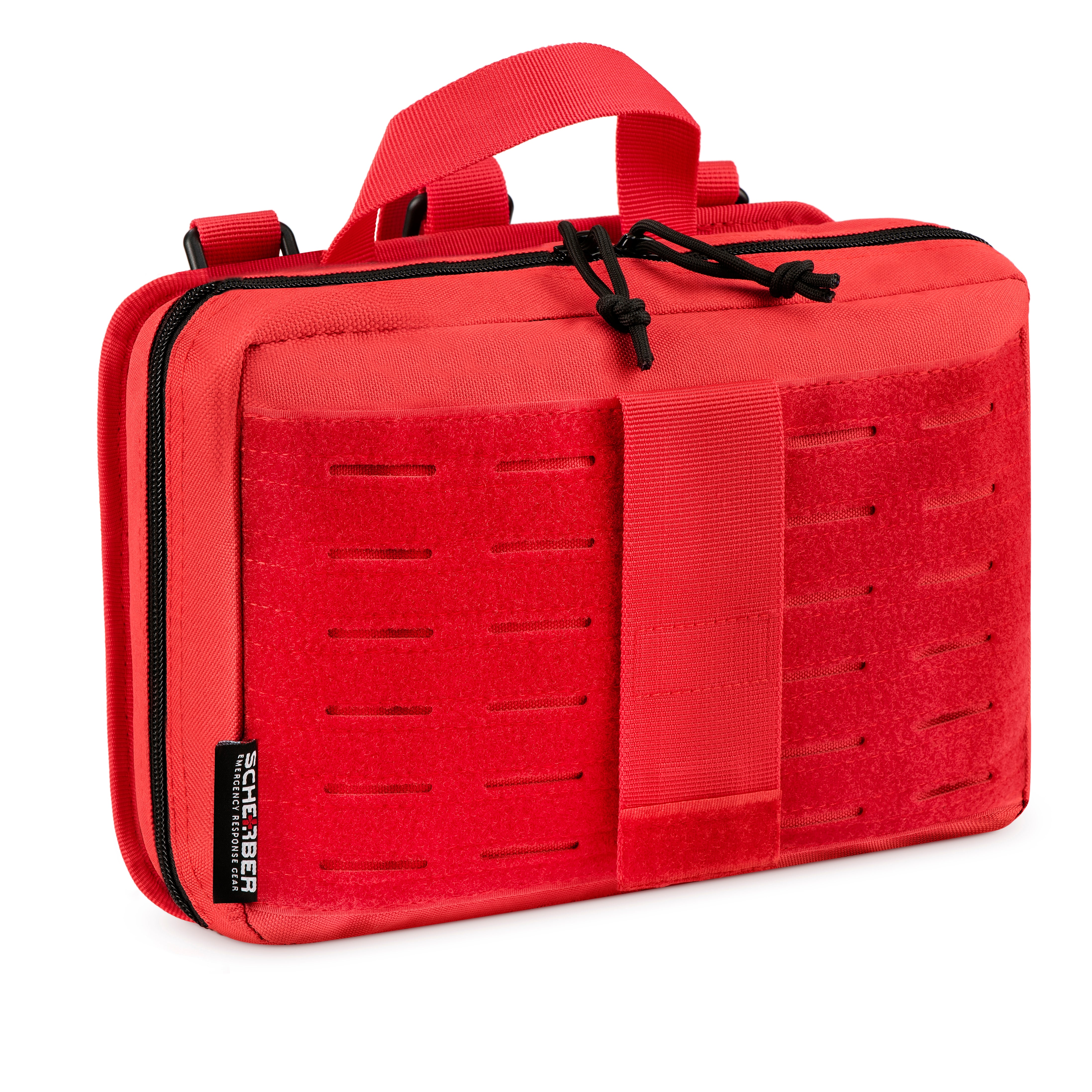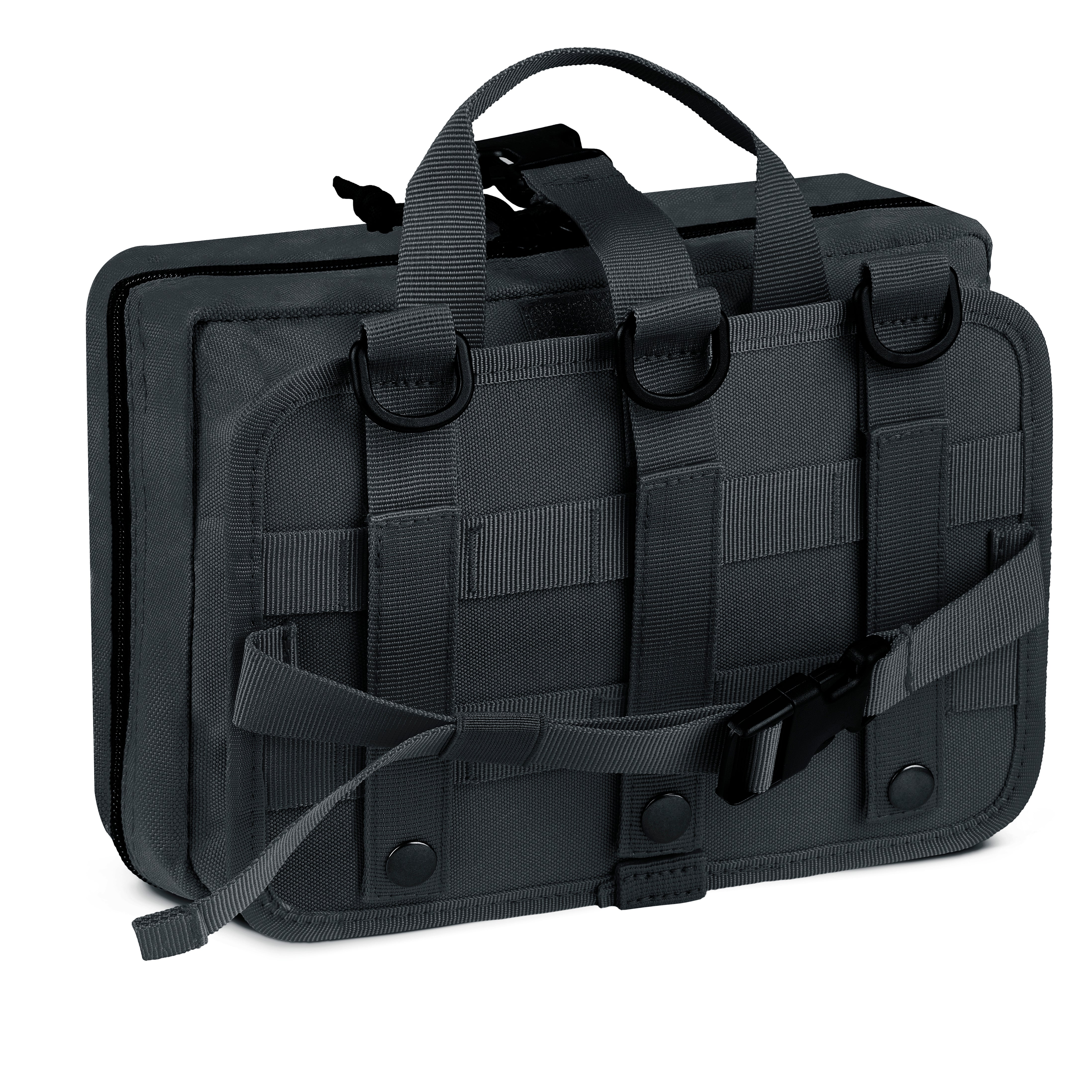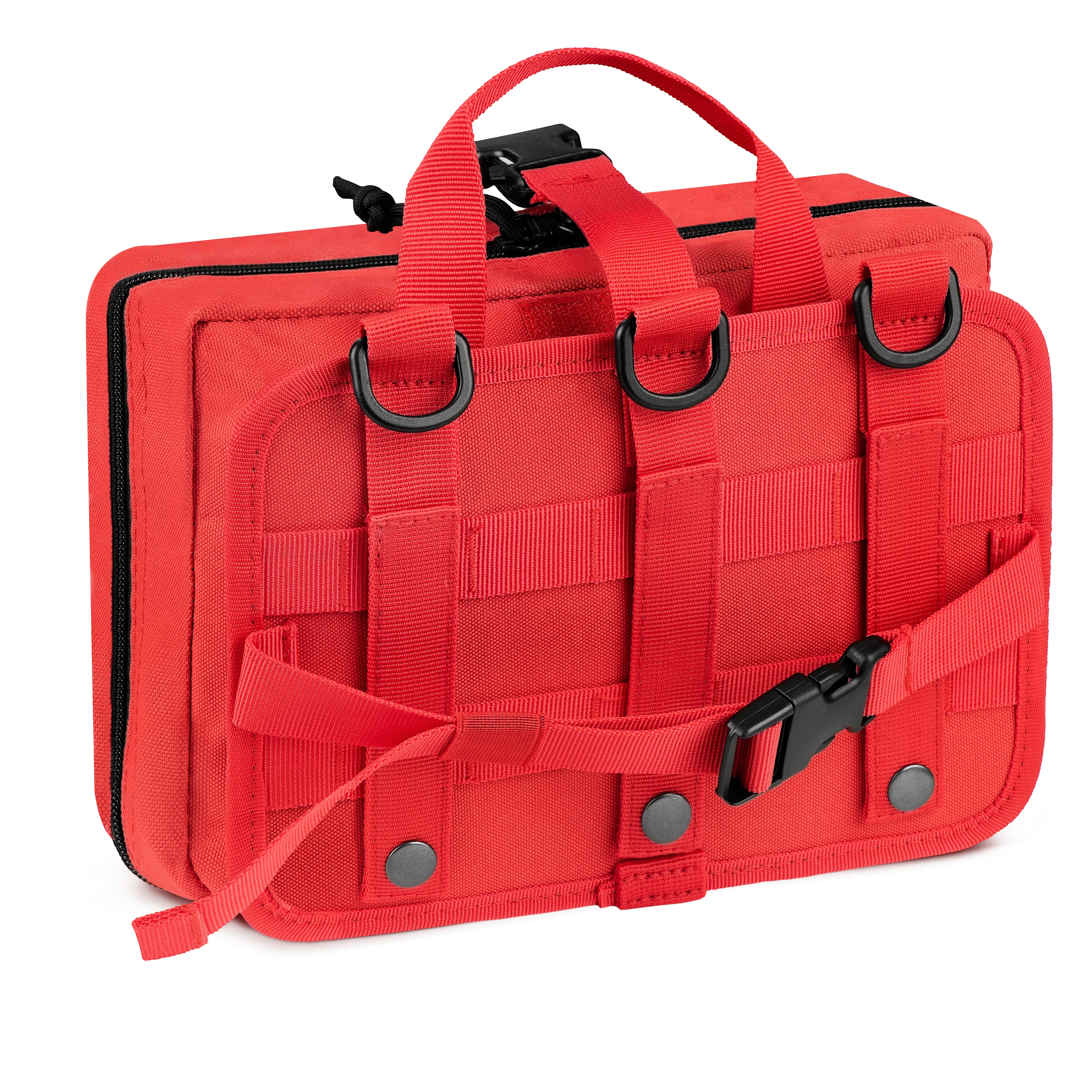 Scherber Vehicle IFAK Emergency Trauma Kit | 25+ Medical Supplies | Basic
Protect and serve with confidence.

From the family van to the front lines, prepare to save the day with the Scherber Vehicle IFAK Kit. Certified first responders and everyday civilians gain ultimate peace of mind having immediate access to every essential medical supply including gear to treat major blood loss, bodily trauma, burns, open wounds, and other small to serious injuries. Instead of a heavy box or clunky container that's hard to carry, our military-grade first aid accessories arrive neatly organized in a premium water-resistant molle pack with 'grab and go' velcro attachment. When disaster strikes, simply rip away from your vehicle's headrest, grab hold of the ergonomic handle, and take the lightweight bag anywhere help is needed. Its compact styling is also perfect for keeping at home, the office, or a place of business. With Scherber at your side, you can survive anything!
EMERGENCY TRAUMA IFAK KIT FOR CAR | Individual First Aid Kit Comes with All the Essential Life-Saving Medical Supplies You Need to Treat Any Type of Injury On the Go Including Sterile Pads, Gauze Bandages, Shears, Surgical Tape, Gloves, Eye Wash, Pads, Finger Splint, Burn Dressing, BZK Wipes & Various Tactical Rescue Items & Equipment | HSA/FSA Approved
GENUINE NAR TOURNIQUET & CPR MASK | High-Quality Trauma Kit Features the Most Reliable, Professional, Military-Grade NAR Gear (North American Rescue) Including a Combat Application Tourniquet (CAT) & Other Bleeding Control Supplies for Major Car Accident, Gunshot or Stab Wounds | Also Includes CPR Rescue Mask Resuscitator for Adults & Kids
PREMIUM WATER-REPELLENT MOLLE POUCH | Heavy-Duty IFAK Pouch is Constructed of Thick, Durable Laser-Cut Oxford Polyester Fabric for Practical, Long-Lasting Performance Amidst the Elements | Lightweight, Compact Design Withstands Regular Wear, Tear & Abuse with Three-Tier Styling That Allows for Neat Organization & Convenient Access to Items
HEADREST MOUNT FOR GRAB AND GO | In Addition to its Portable Size, Our First Aid Survival Tool Kit is Specially Designed for Administering Swift Medical Care On Scene & On the Move | Just Install the Hook & Loop Rear Panel to Your Car's Headrest, Attach the Bag Via Velcro & Grab Hold of the Handle for 'Rip Away' Detachment at a Moment's Notice
IDEAL FOR HOME OR PROFESSIONAL USE | Complete Medical Supply Kit is Perfect for Road Trips, Home, Office, Business, School, Gym, Camping, Hiking, or Any Indoor/Outdoor Setting or Travel | Also Suitable for Law Enforcement, Fire Department, Certified EMT & Public Safety Vehicles, Search & Rescue ATVs, Commercial Work Trucks & Other First Responders
1 x Bandage Shears, 7.5" ● 2 x Stretch Gauze Bandage Roll 3" ● 2 x Combine Pads 5" x 9" ● 1 x Cloth Surgical Tape 1" x 10 yds ● 2 x Oval Eye Pads 1-5/8" x 2-5/8" ● 2 x Triangular Bandage, 36" x 36" x 51" ● 1 x Eye Wash 1oz ● 4 x Nitrile Sterile Exam Gloves ● 1 x Finger Splint ● 1 x CPR Rescue Mask ● 1 x First Aid Guide Booklet ● 1 x Burn Dressing, 4" x 4" ● 1 x NAR Combat Application Tourniquet Gen 7 ● 1 x NAR Hyfin Vent Chest Seal Twin Pack ● 1 x 6″ Emergency Israeli Bandage ● 2 x NAR Compressed Gauze ● 1 x Permanent Marker ● 6 x BZK Wipes ● 1 x QuikClot EMS 4x4 Dressing
GOVX ID MILITARY DISCOUNT
To thank you for your service, we've partnered with GovX to offer a discount on our store.
Save up to 10%
This offer is eligible for:
Current & former U.S. military
Military spouses & dependents
First responders including law enforcement, fire, and EMS
Federal, state, and local government employees
Teachers (K-12 and University teachers/staff)
How it works:
Click the button to claim your discount and you'll be asked to verify your affiliation with GovX ID. Verification is real-time and secure. If you already have a GovX ID account, just log in!
After you verify, you'll receive a single-use discount code to apply at checkout. Be sure to copy your code.
For future purchases, simply log in with your GovX ID to unlock a new discount code.
There is a limit of one discount code per day.