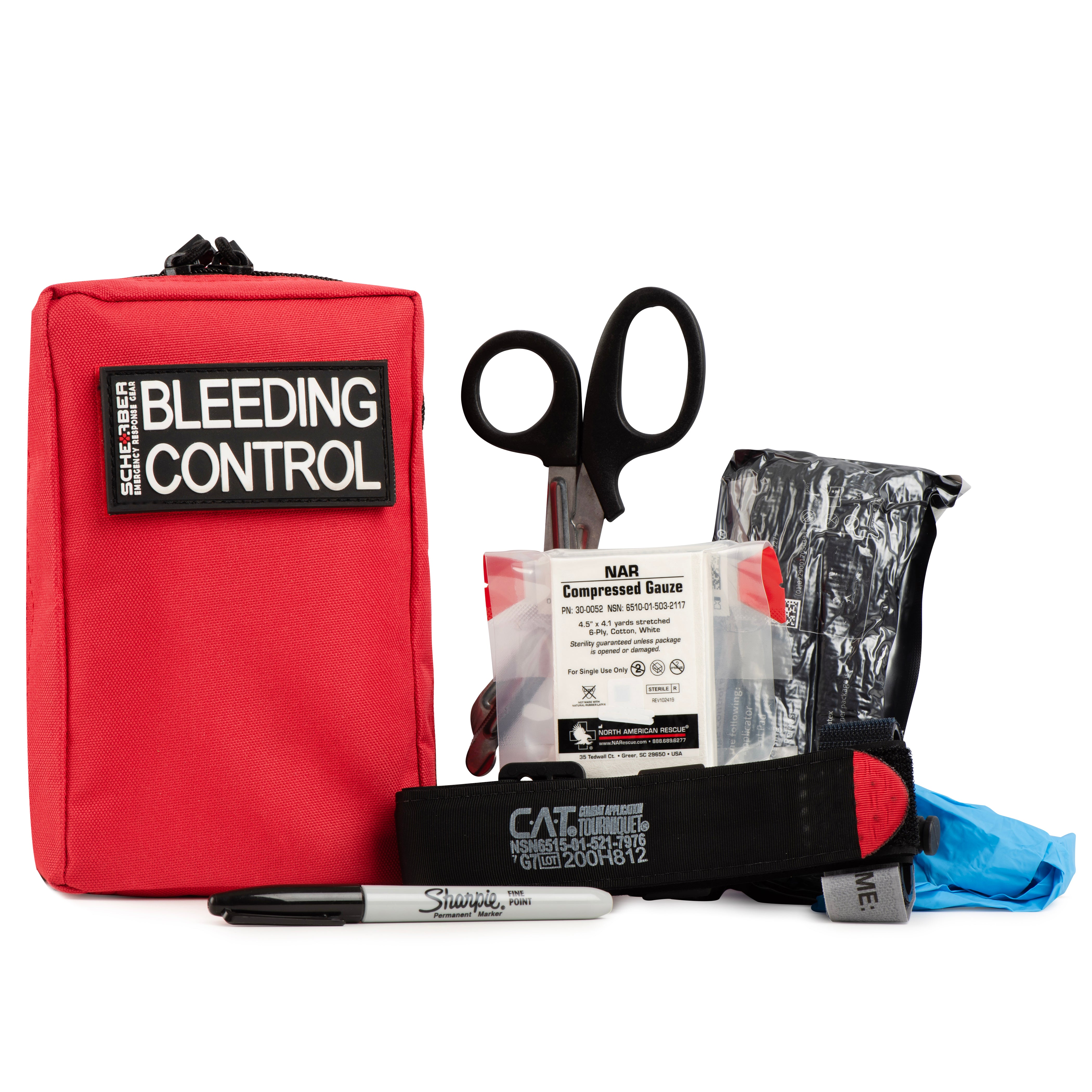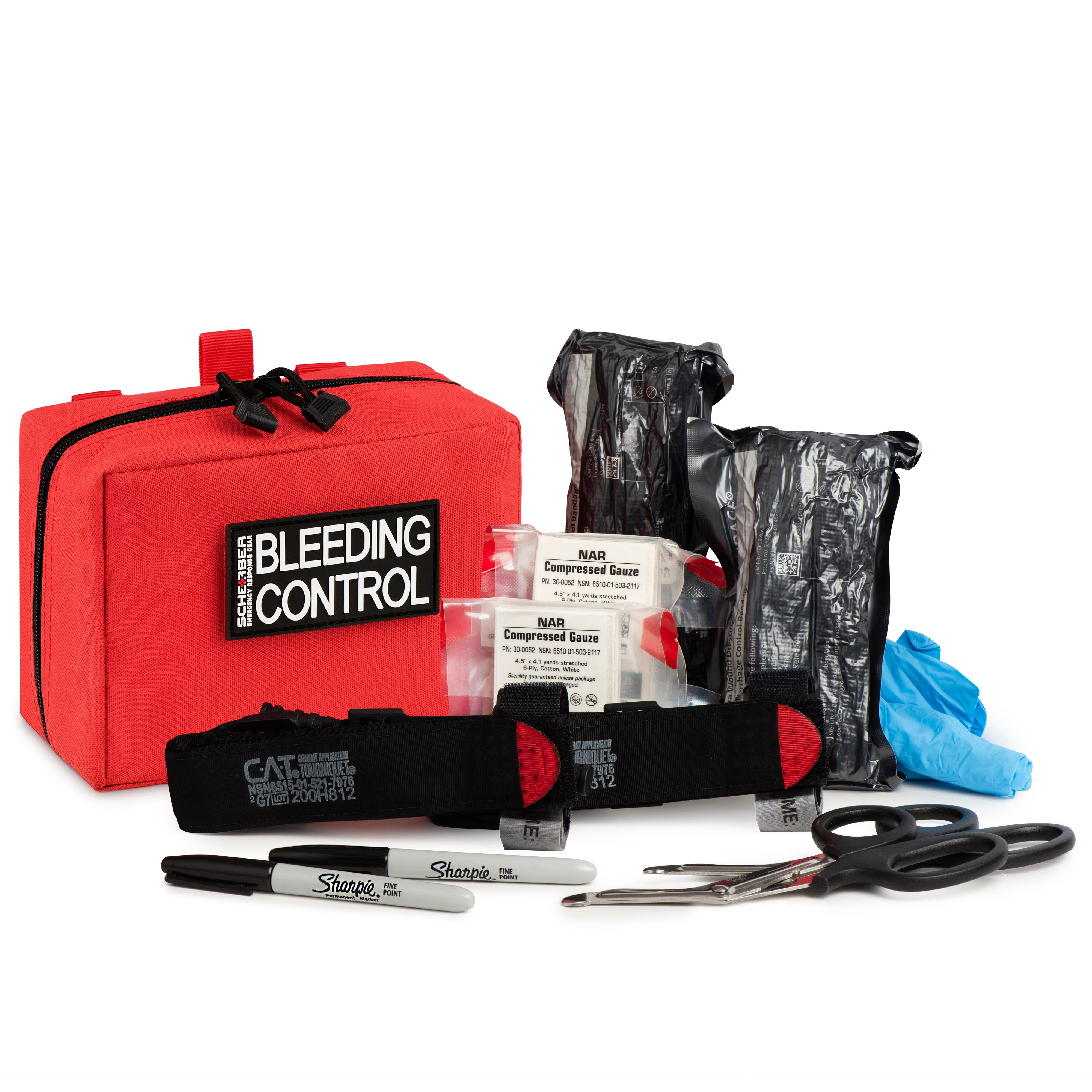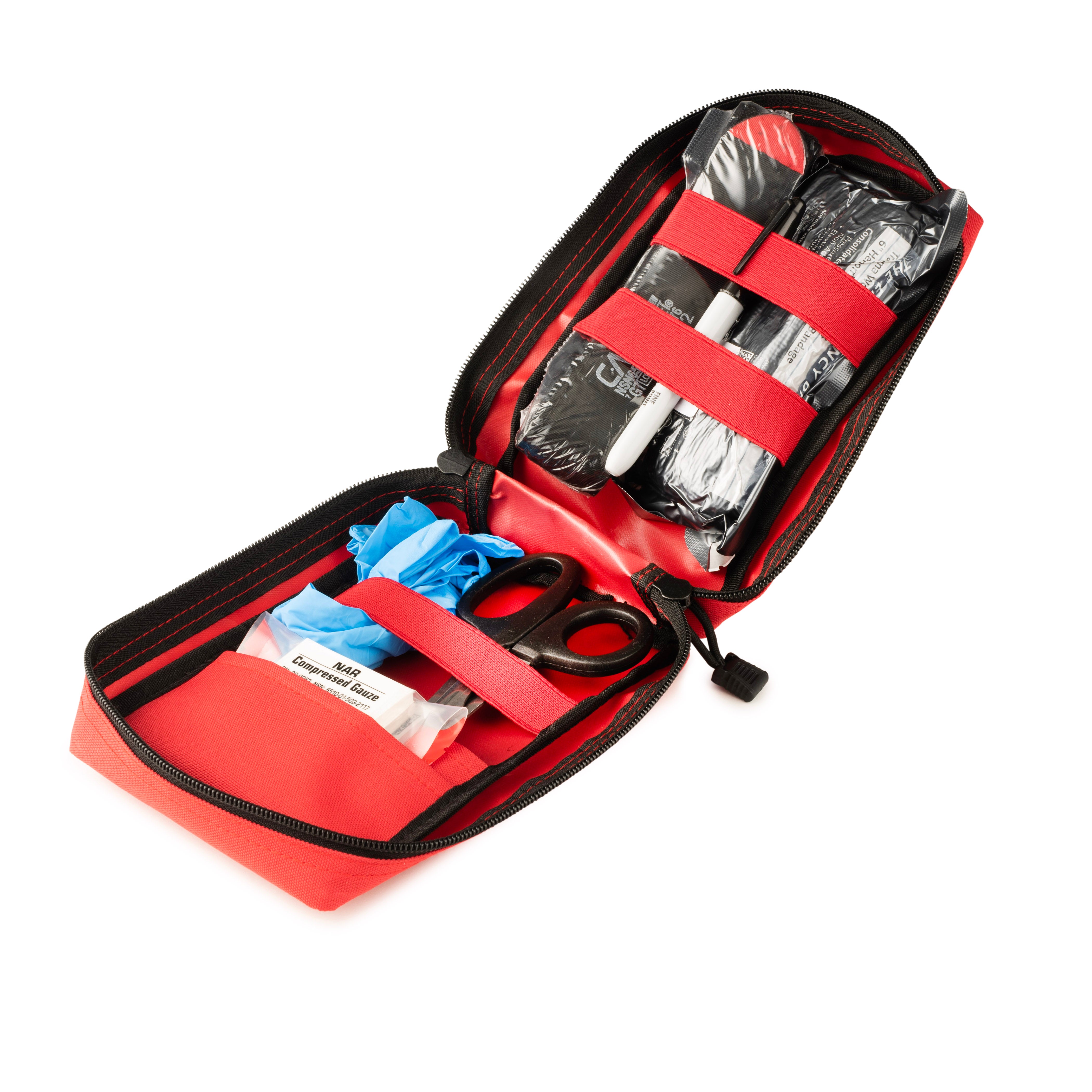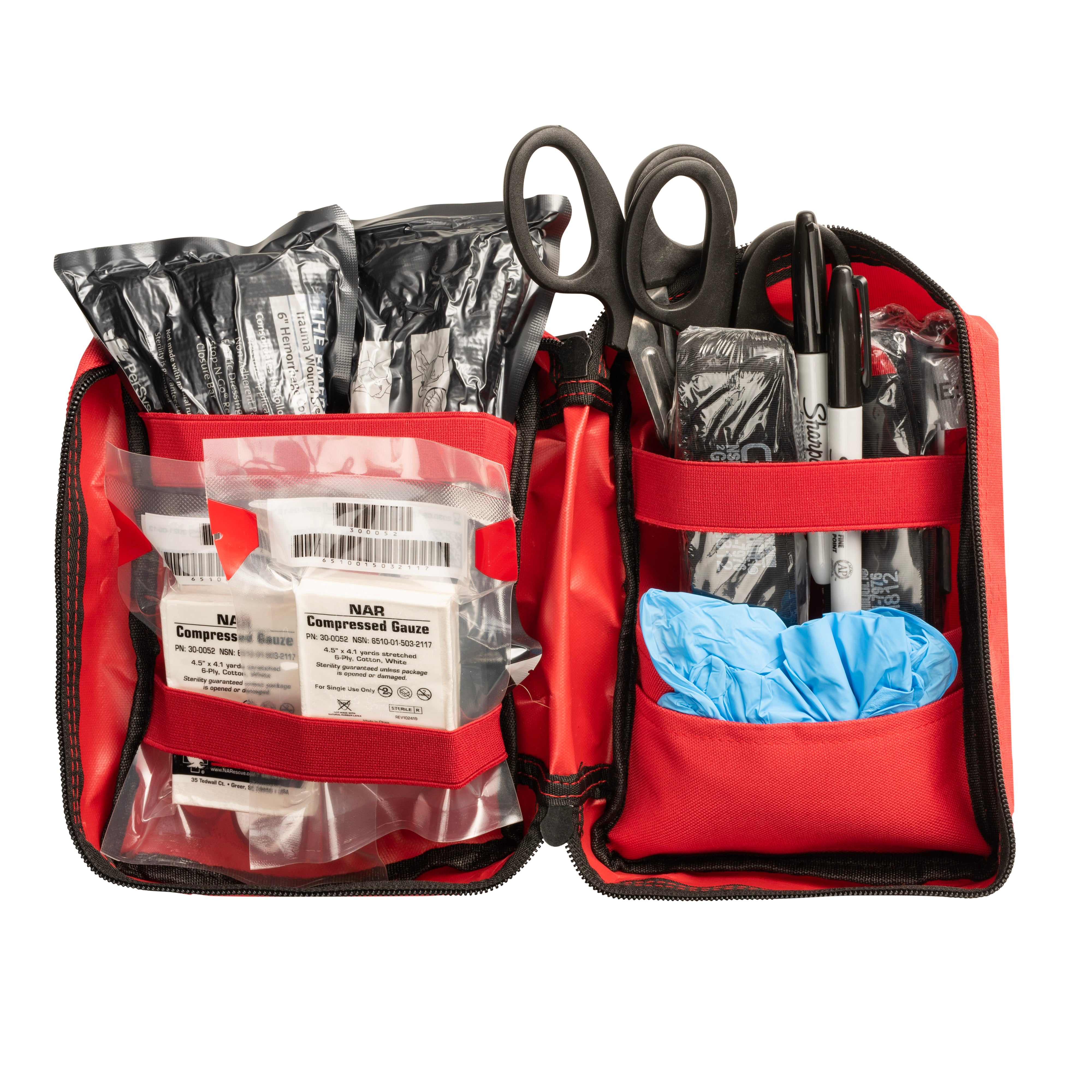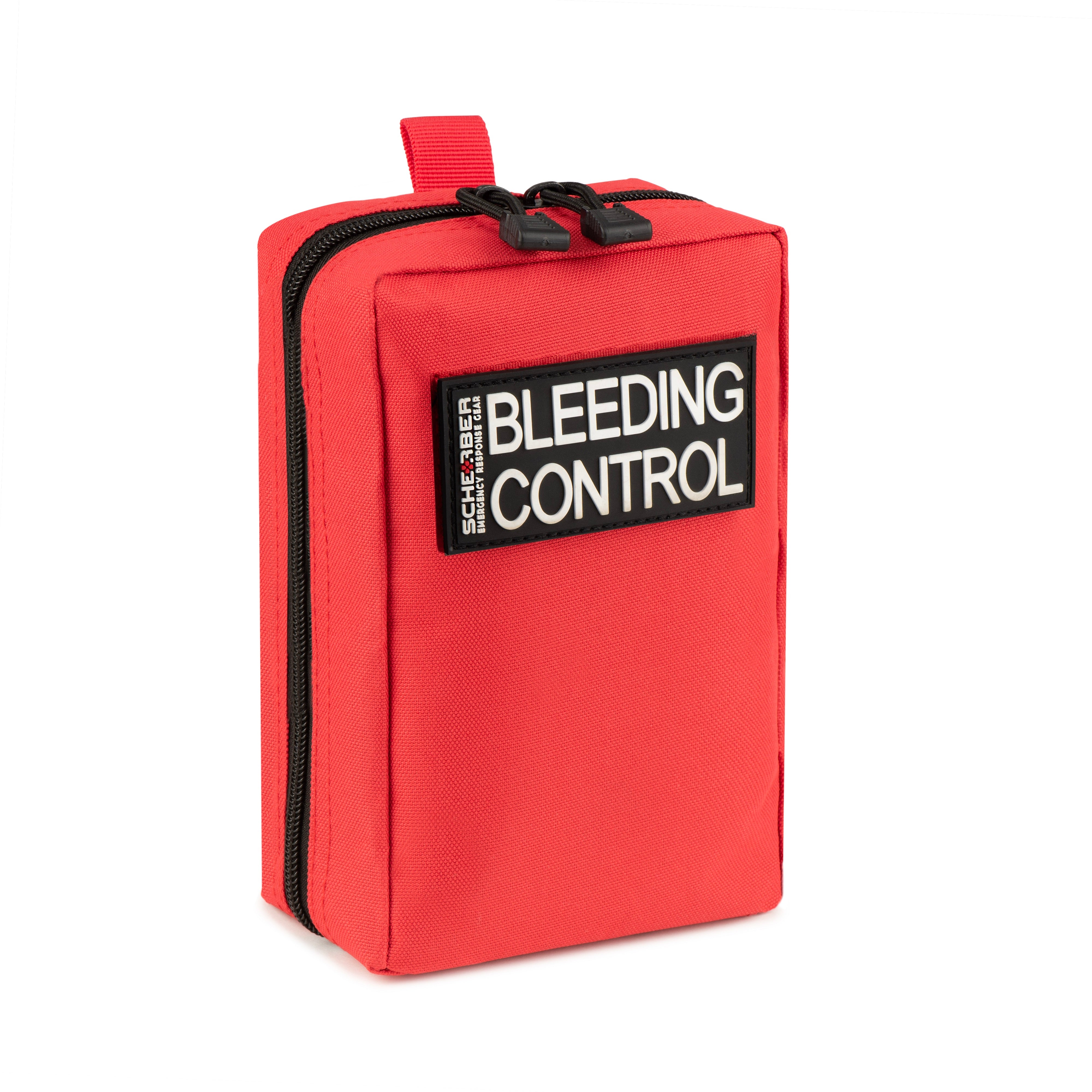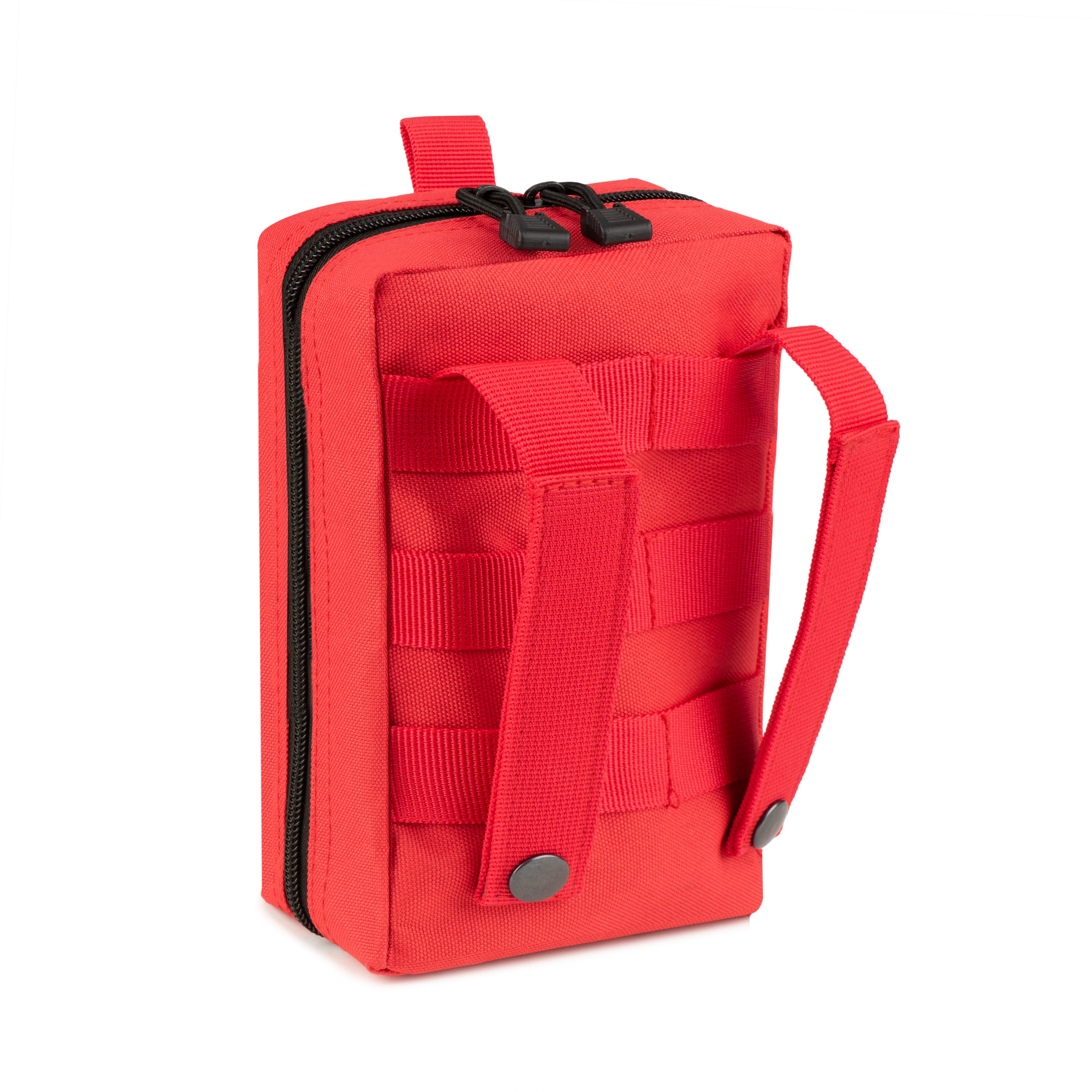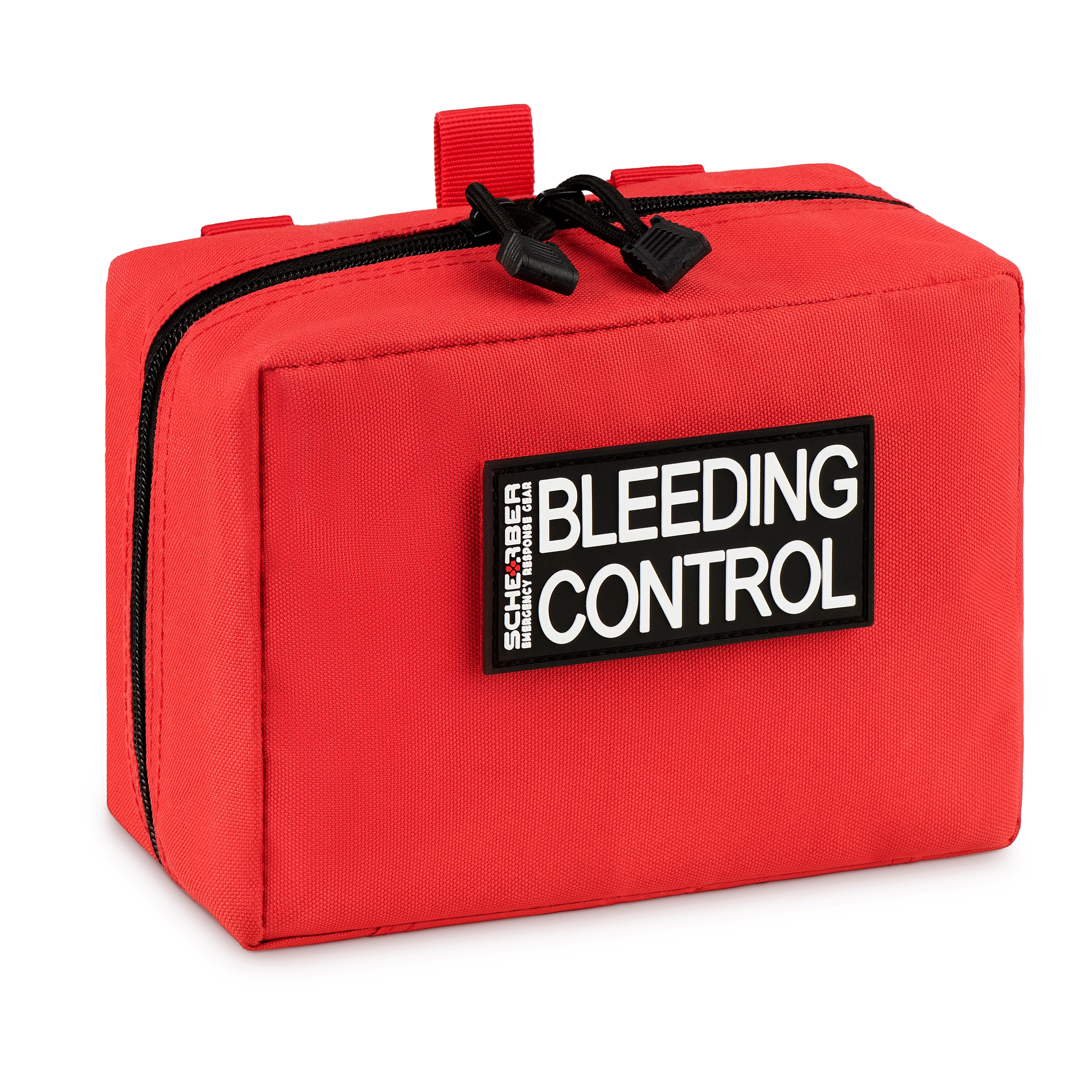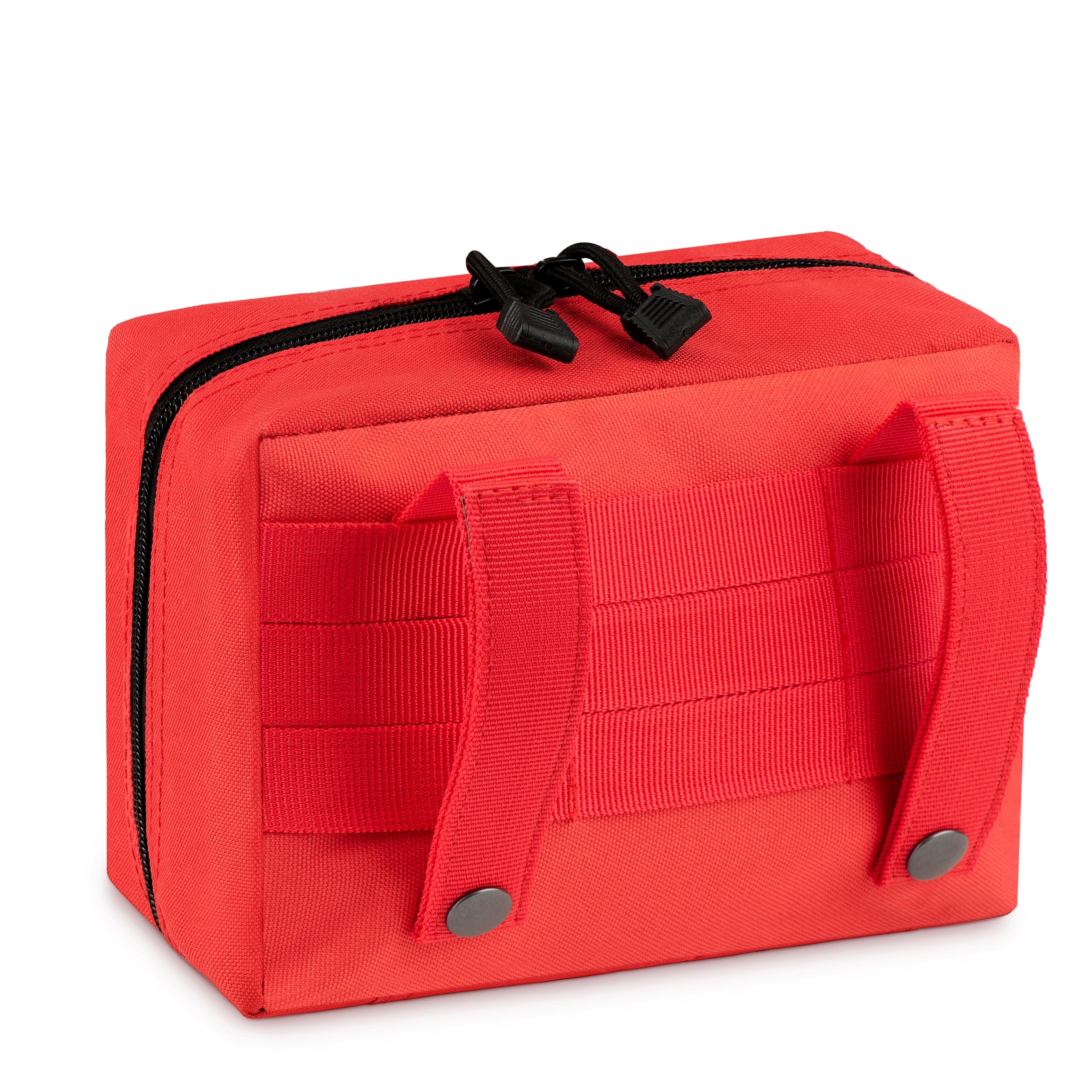 Scherber Public Access Bleeding Control Kit | Trauma Equipment, First Aid Supplies | Basic
Take control of any life-threatening situation.

Be prepared to treat severe bleeding or hemorrhage with the Public Access Bleeding Control Kit from Scherber. Not your typical IFAK collection, this tactical medical kit is designed to treat all kinds of severe bleeding from puncture wounds to serious bodily trauma due to car accidents, gunshot, stabbing, and other natural and man-made disasters. First responders (both professional and impromptu) get immediate access to the hemorrhage care essentials, without digging through a cluttered bag. All your most crucial supplies are neatly organized inside a compact, indestructible clamshell case with bright red exterior and easy-to-identify logo. In addition to its variety of bandages, gauzes, pads, tapes, gloves, dressings, and other supplies, each trauma bag is also packed with real, genuine NAR gear including a CAT Tourniquet. Keep a kit in your personal car, public AED cabinet, school office, warehouse, or anywhere accidents are bound to happen. To successfully stop the bleed, the solution is simple—add a Scherber Public Access Bleeding Control Kit to your cart today!
EVERYTHING YOU NEED TO STOP THE BLEED | Emergency Public Access Bleeding Control Kit Is Not Your Typical IFAK (Individual First Aid Kit) | It's Packed With Essential Life-Saving Supplies Used to Treat Severe Bleeding or Hemorrhage, Including NAR Tourniquet, Israeli Bandage, Compressed Gauze, Trauma Shears, Gloves & More | HSA/FSA Approved
GENUINE PREHOSPITAL NAR TOURNIQUET | High-Quality Trauma Kit Features the Most Reliable, Professional, Military-Grade NAR Gear Including a CAT Tourniquet & Other Bleeding Control Equipment for Major Car Accident, Gunshot Wound, Stabbing, Active Shooter, Combat Injury, Natural Disaster & More
PREMIUM WATER-REPELLENT POUCH | Heavy-Duty Clamshell Case is Constructed of Thick, Durable, Laser-Cut Oxford Polyester Fabric for Practical, Long-Lasting Performance Amidst the Elements | Lightweight, Compact Design Withstands Regular Wear, Tear & Abuse with Multiple Pockets, Compartments & Loops for Neat Organization & Access to Items
BRIGHT RED WITH BLEEDING CONTROL LABEL | Designed for Easy Recognition in Times of Emergency! The Bag's Vibrant Red Coloring & 'BLEEDING CONTROL' Embossing Make it Quick to Locate by Civilians As Well As Law Enforcement, Medical Professionals & First Responders | Portable Size is Effortless to Carry & Fits Inside Most Existing AED Cabinets
PERFECT FOR PUBLIC OR PRIVATE USE | Rapid Bleeding Control Kit Makes a Great Precautionary Choice for Home, Office, Industrial Workplaces, School, University Campus, Summer Camps, Synagogues, Theaters, Police & Fire Departments, Certified EMT, Public Safety Vehicles, Search & Rescue, Sports Coaches & Earthquake, Tornado & Hurricane Recovery
Single Kit:
1 x NAR Combat Application Tourniquet Gen 7 ● 1 x 6″ Emergency Israeli Bandage ● 1 x NAR Compressed Gauze ● 1 x 7.5" Bandage Scissors ● 1 x Pair Nitrile Gloves ● 1 x Permanent Marker

Dual Kit:
2 x NAR Combat Application Tourniquet Gen 7 ● 2 x 6″ Emergency Israeli Bandage ● 2 x NAR Compressed Gauze ● 2 x 7.5" Bandage Scissors ● 2 x Pair Nitrile Gloves ● 2 x Permanent Marker

GOVX ID MILITARY DISCOUNT
To thank you for your service, we've partnered with GovX to offer a discount on our store.
Save up to 10%
This offer is eligible for:
Current & former U.S. military
Military spouses & dependents
First responders including law enforcement, fire, and EMS
Federal, state, and local government employees
Teachers (K-12 and University teachers/staff)
How it works:
Click the button to claim your discount and you'll be asked to verify your affiliation with GovX ID. Verification is real-time and secure. If you already have a GovX ID account, just log in!
After you verify, you'll receive a single-use discount code to apply at checkout. Be sure to copy your code.
For future purchases, simply log in with your GovX ID to unlock a new discount code.
There is a limit of one discount code per day.