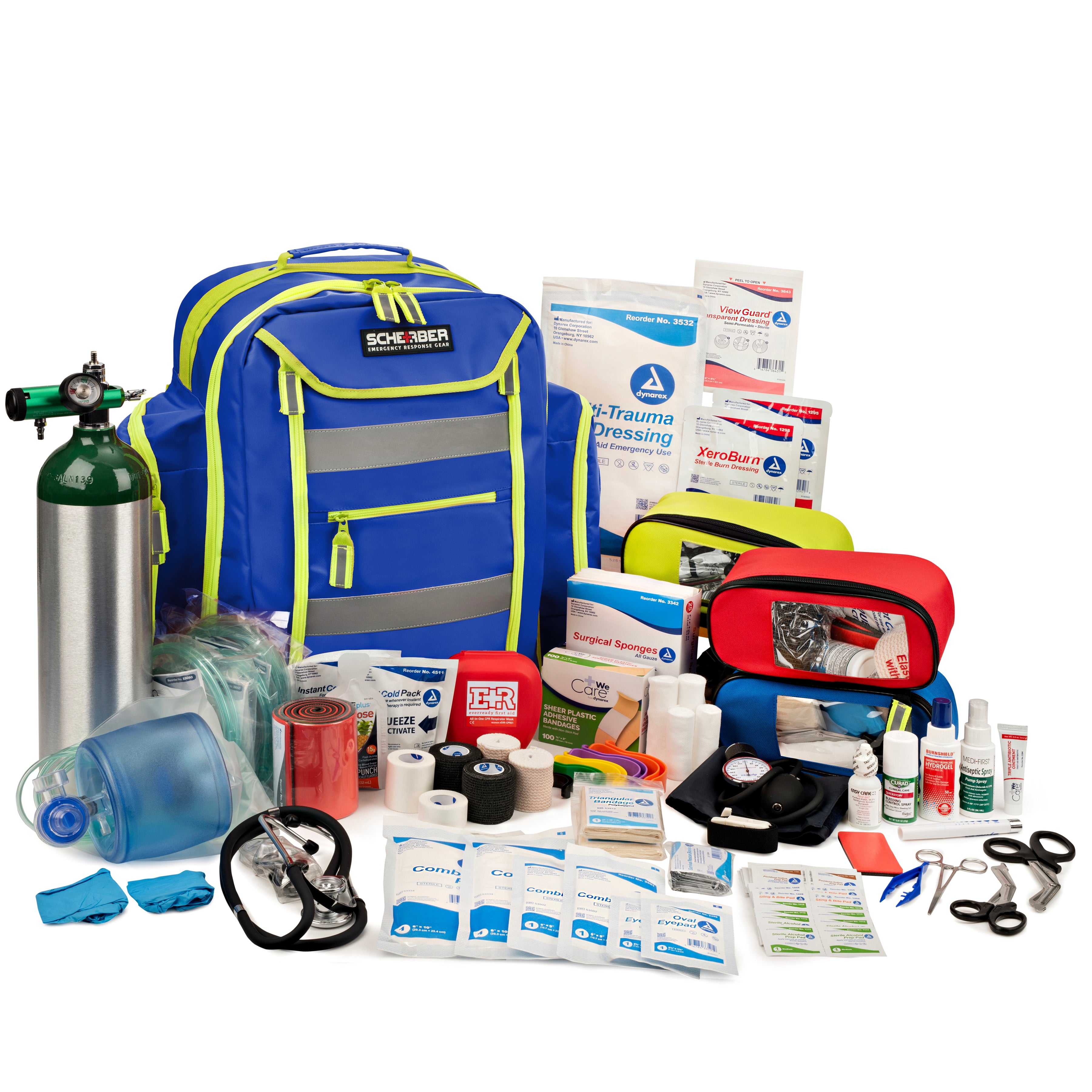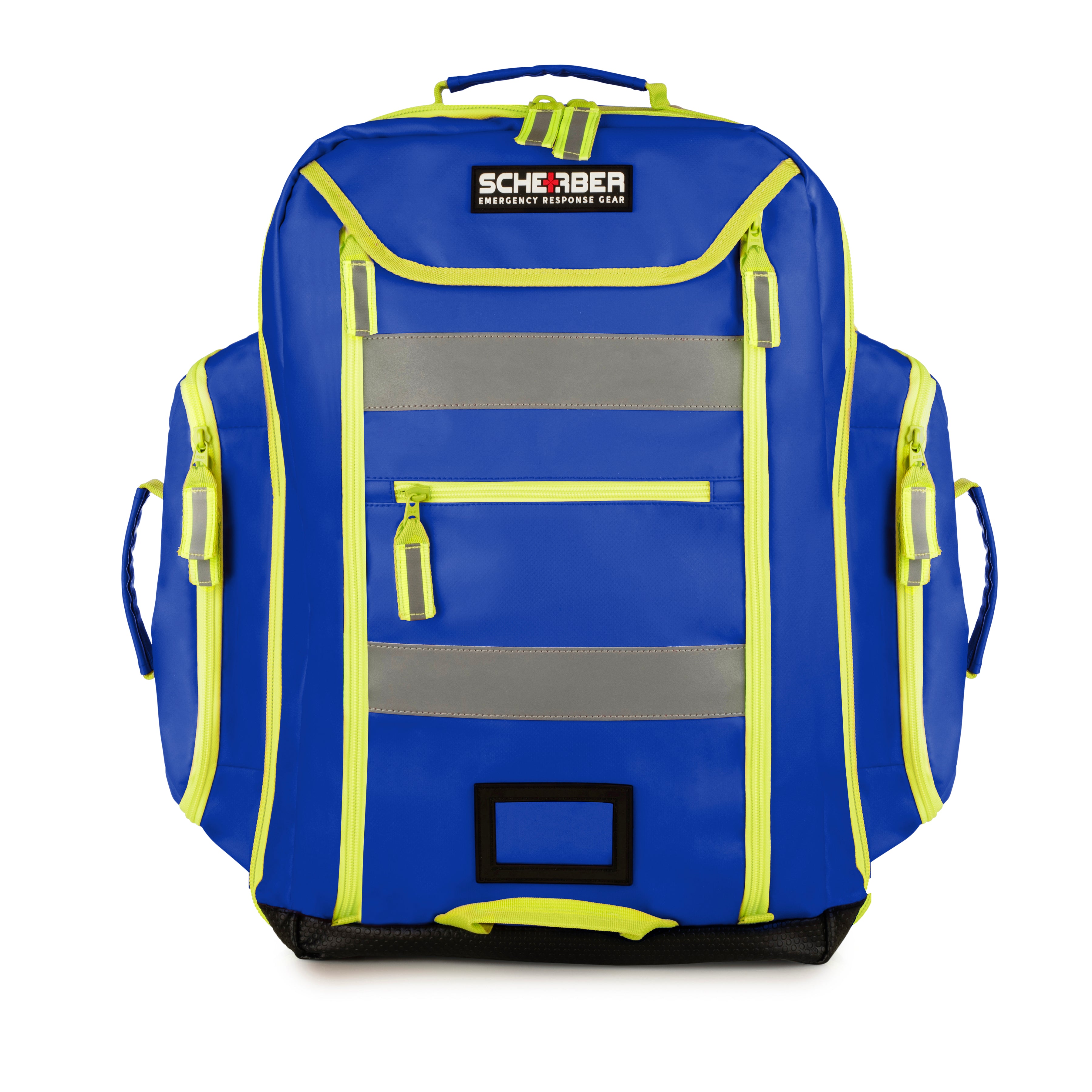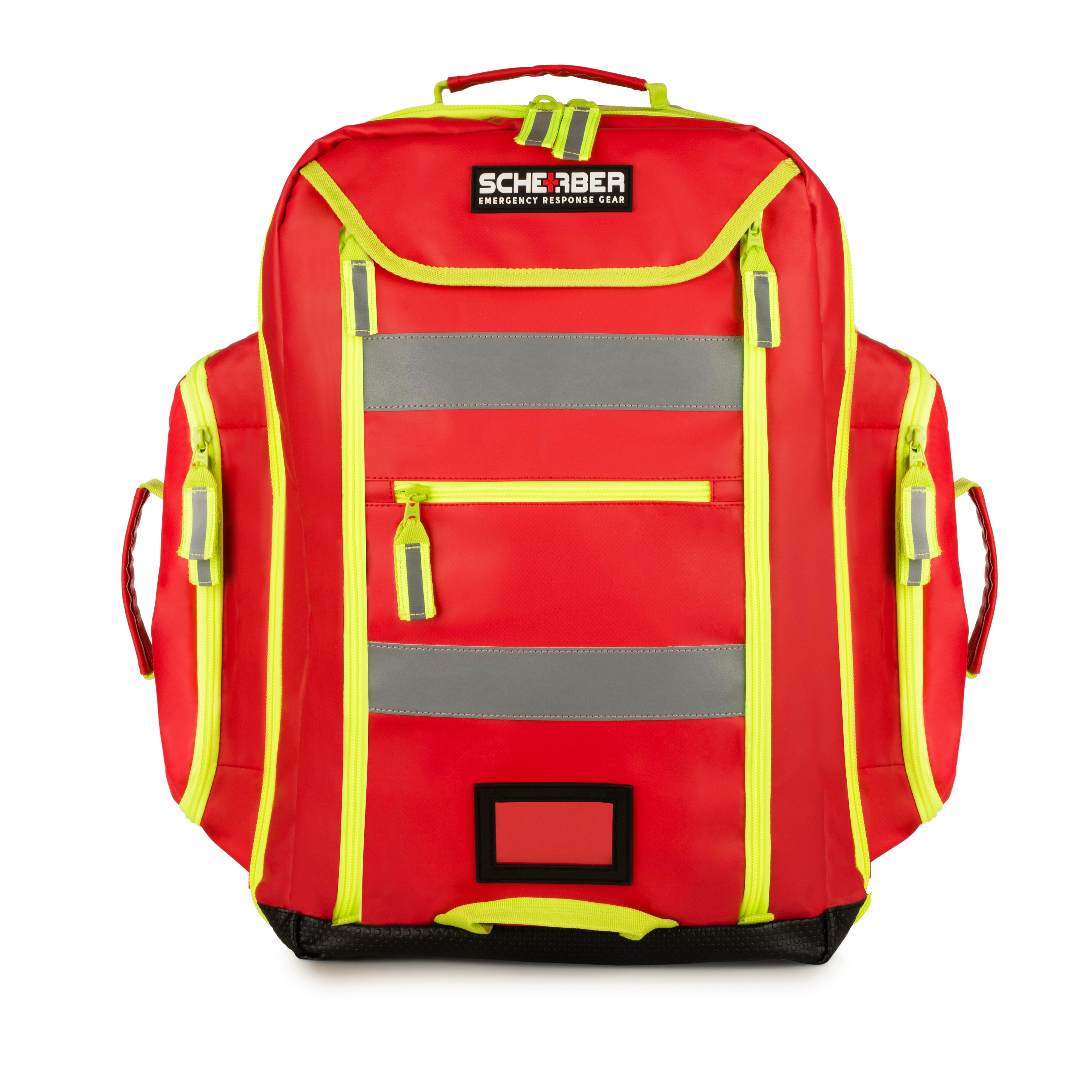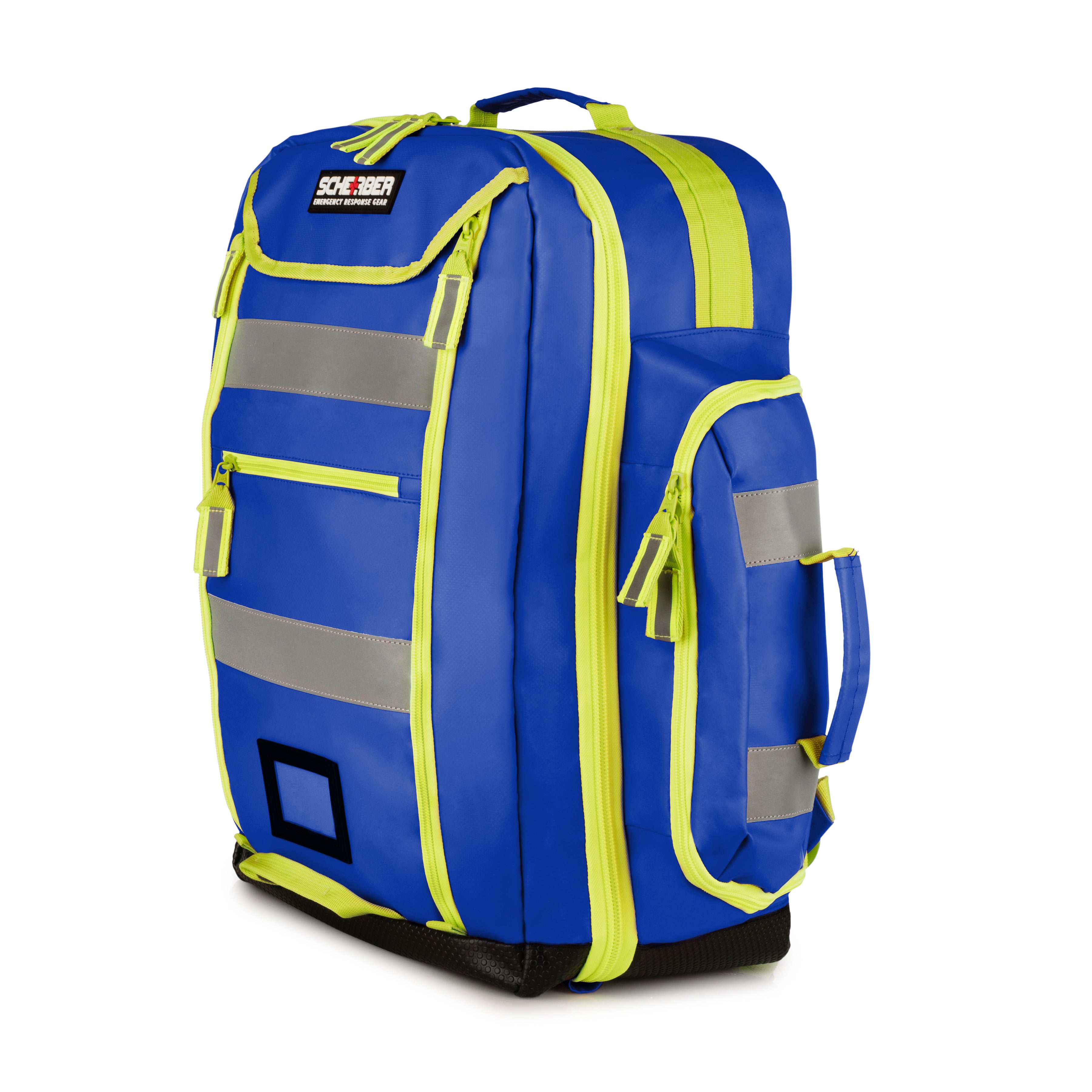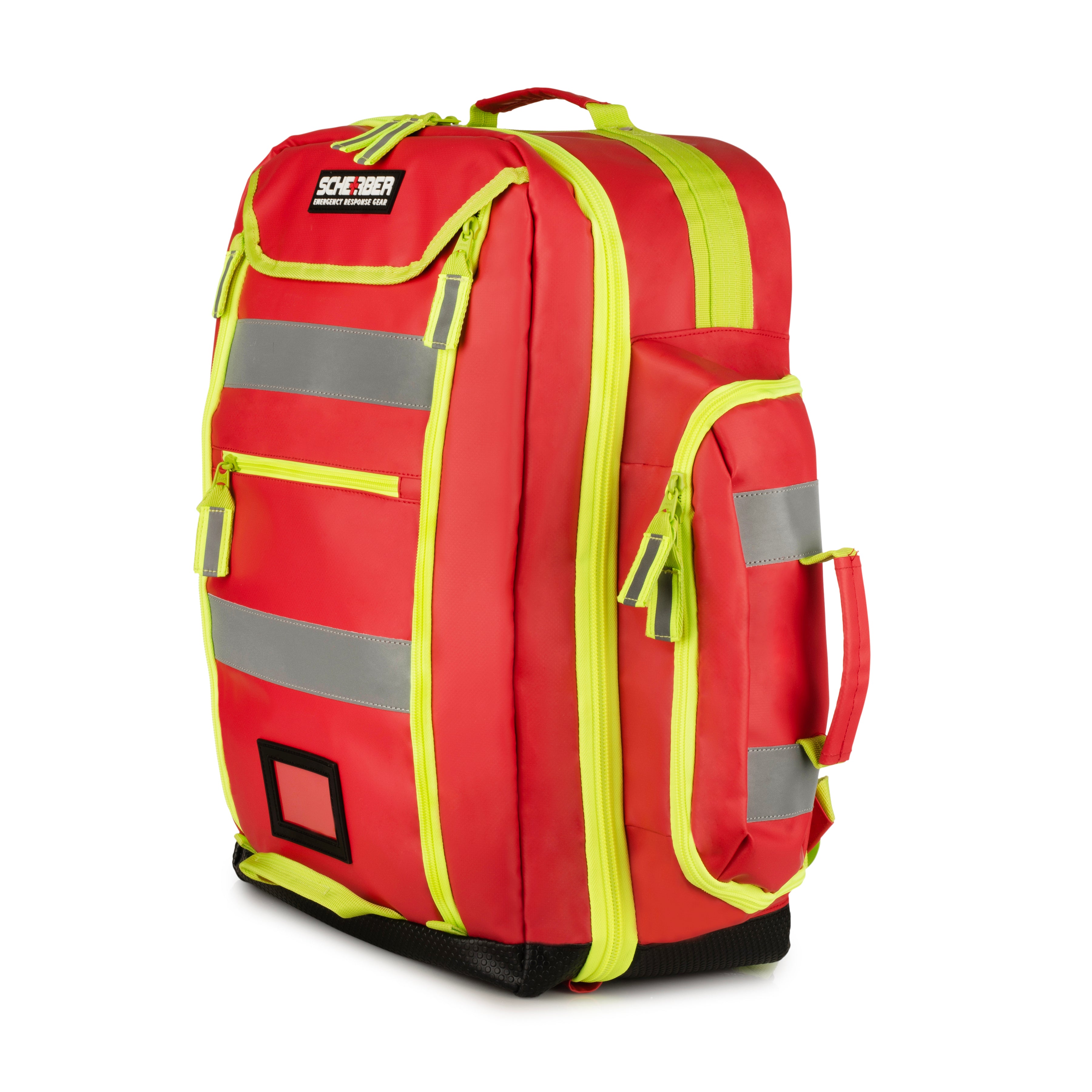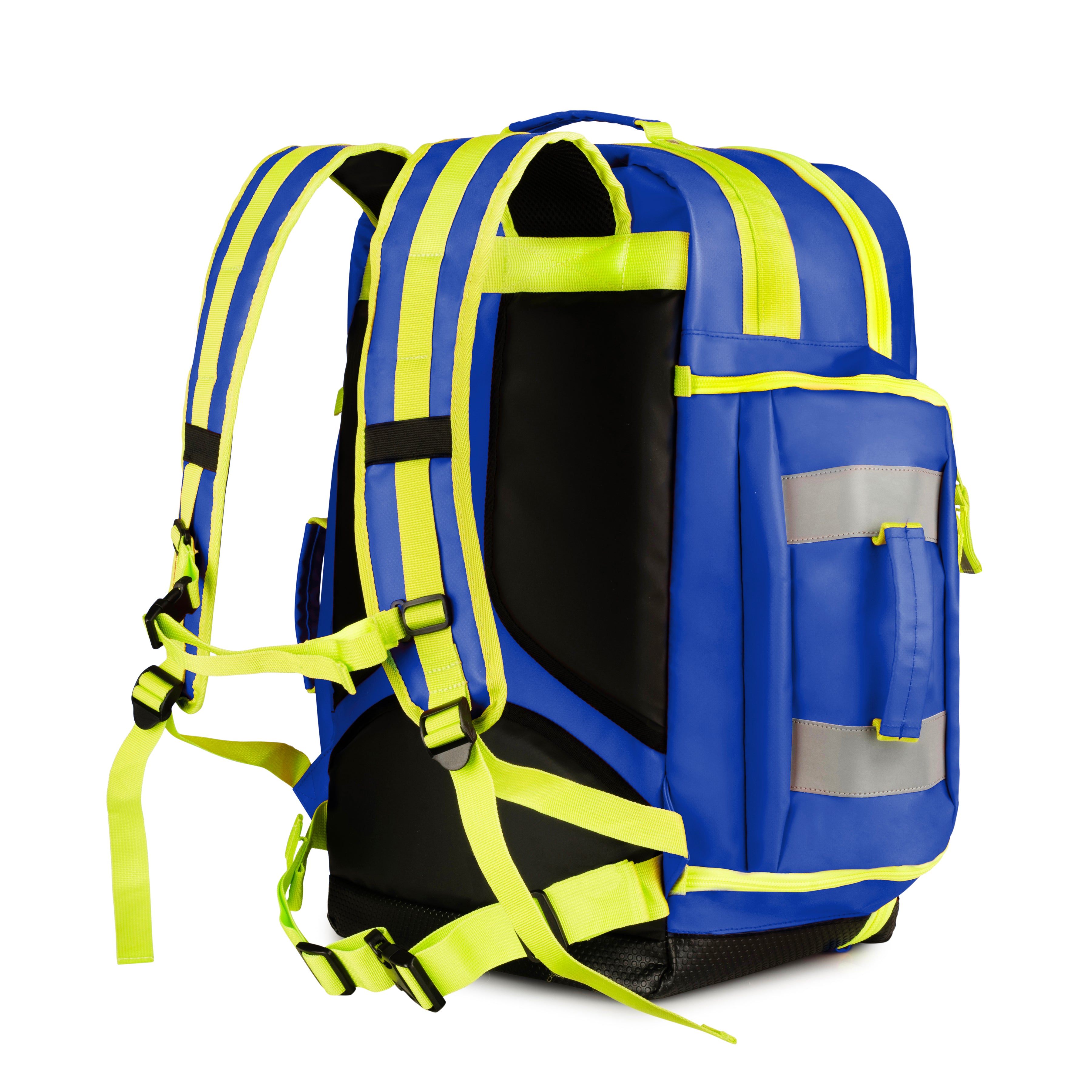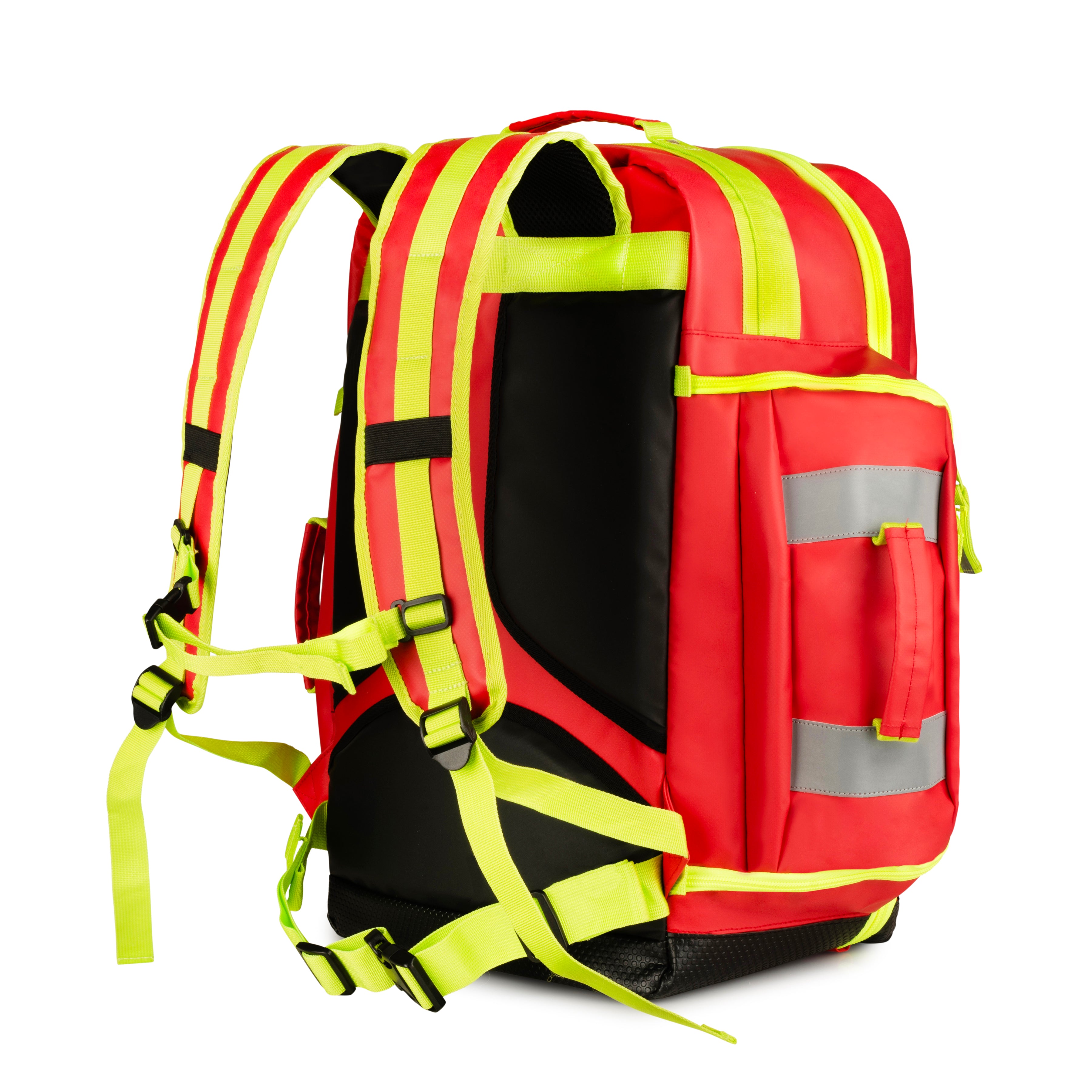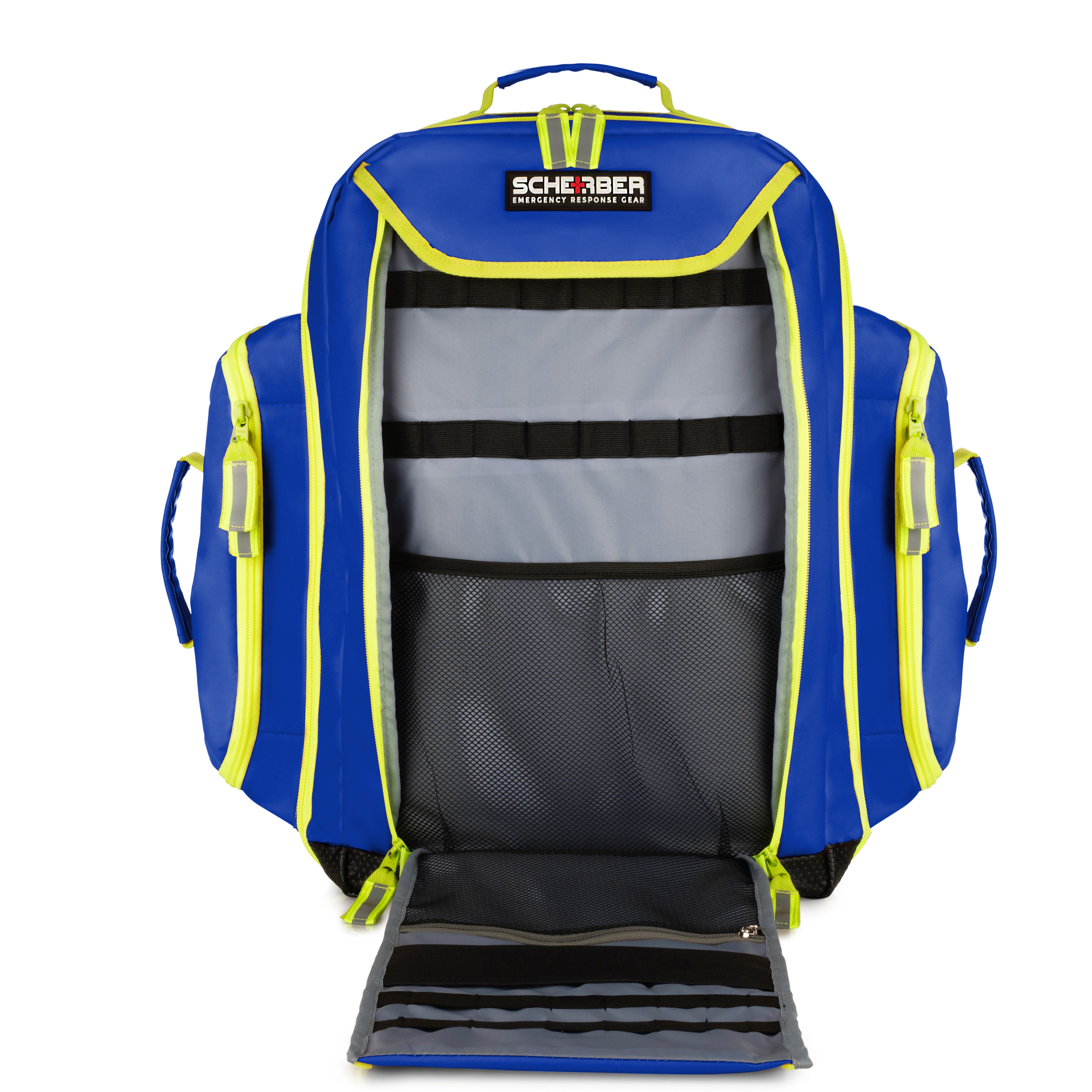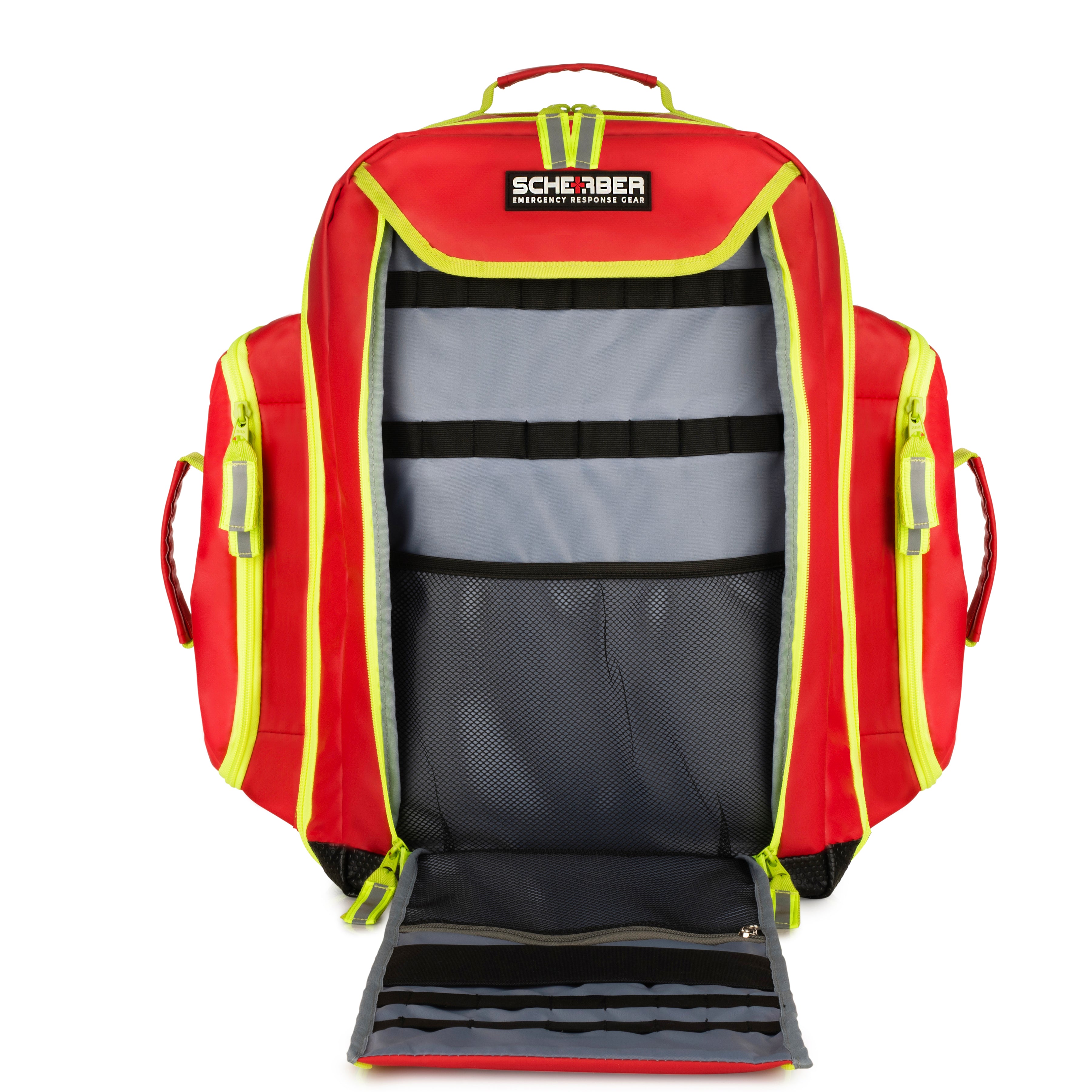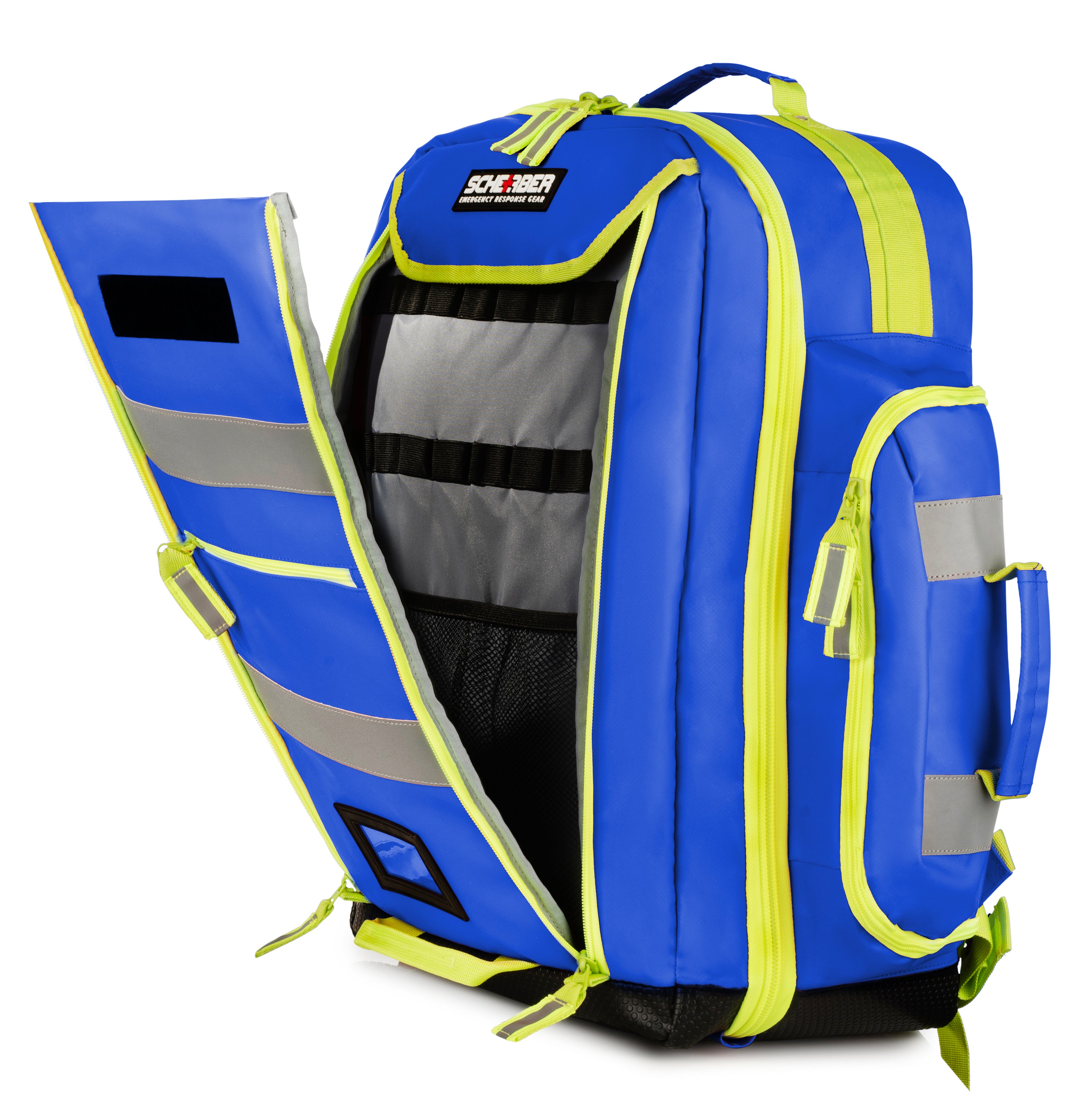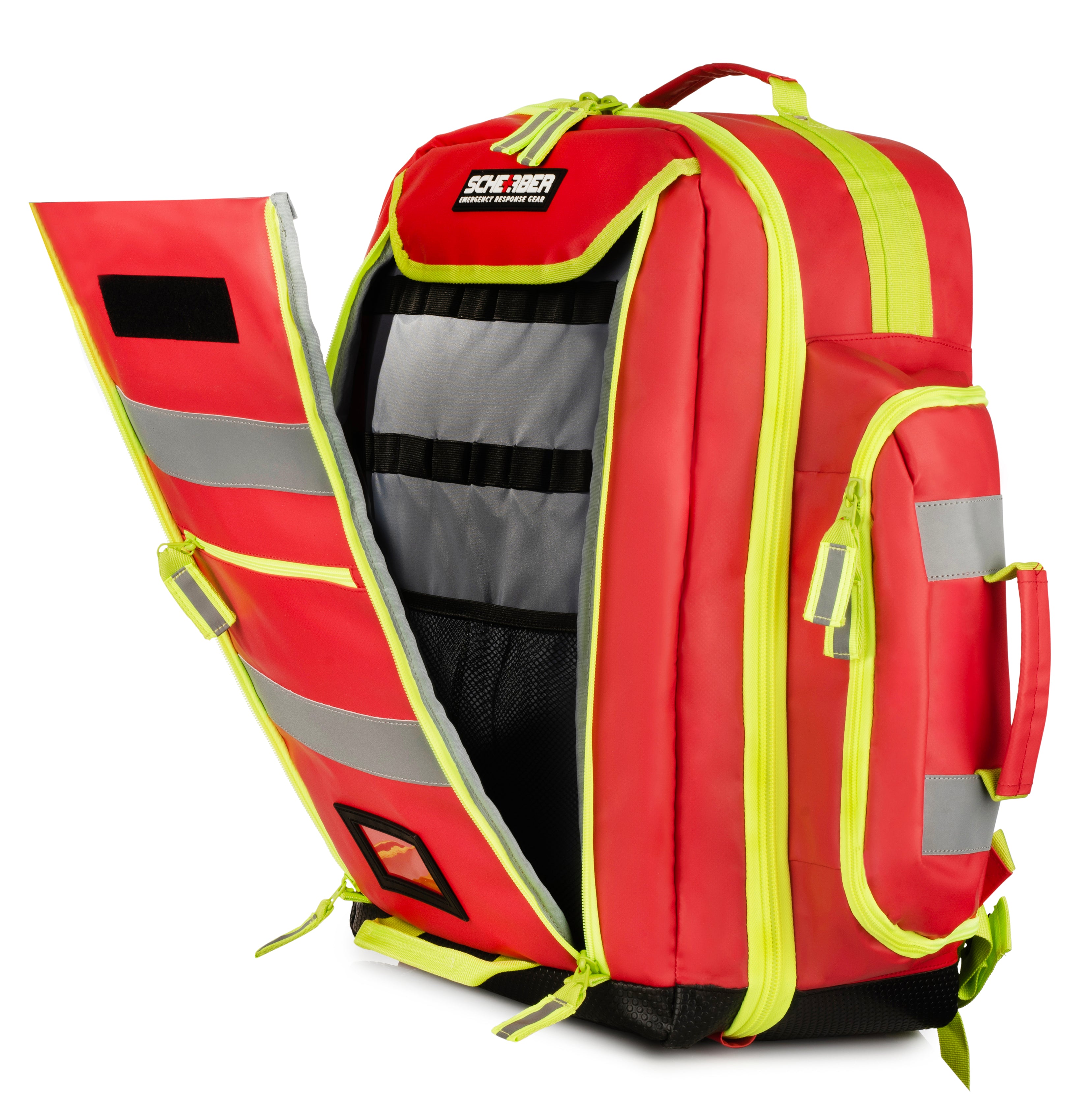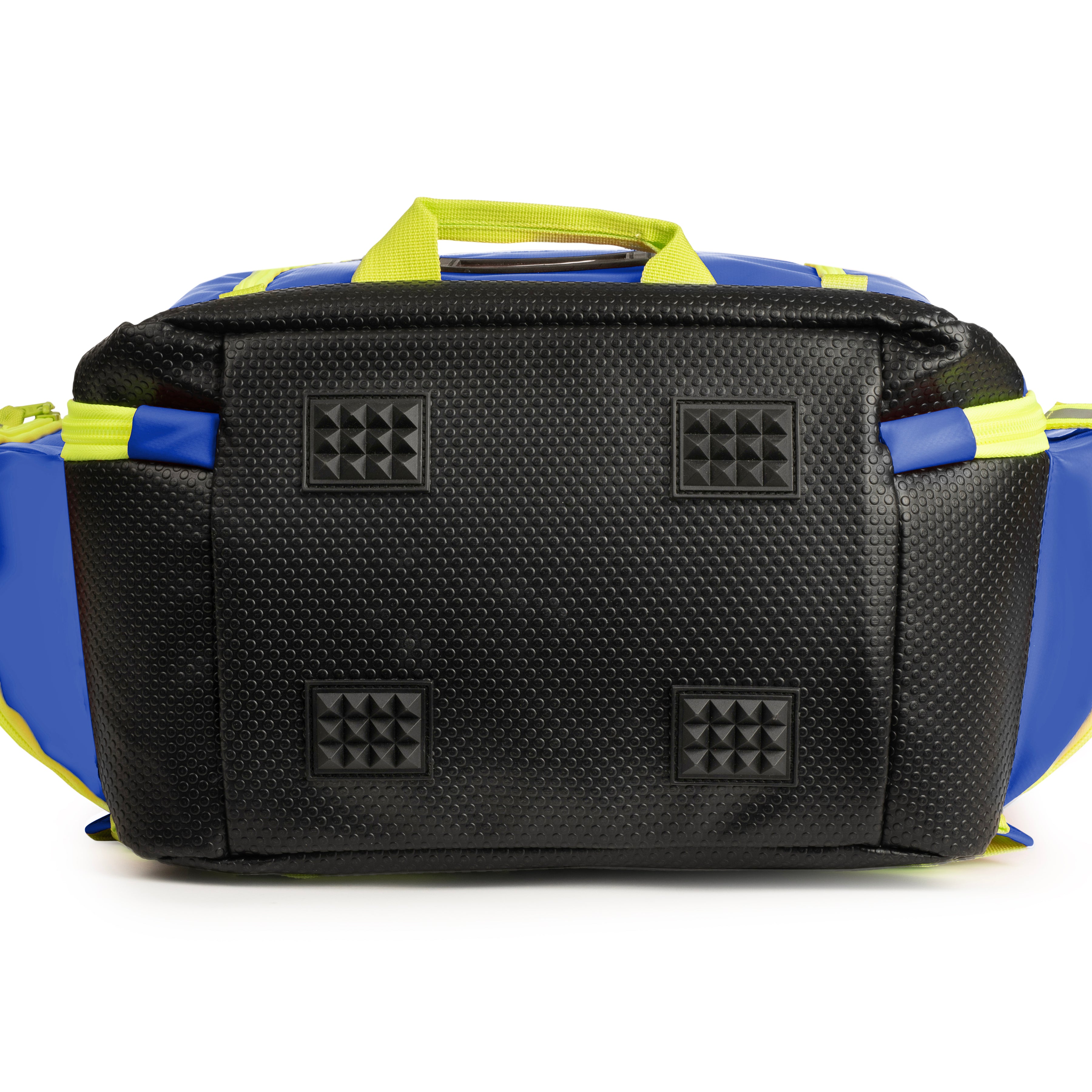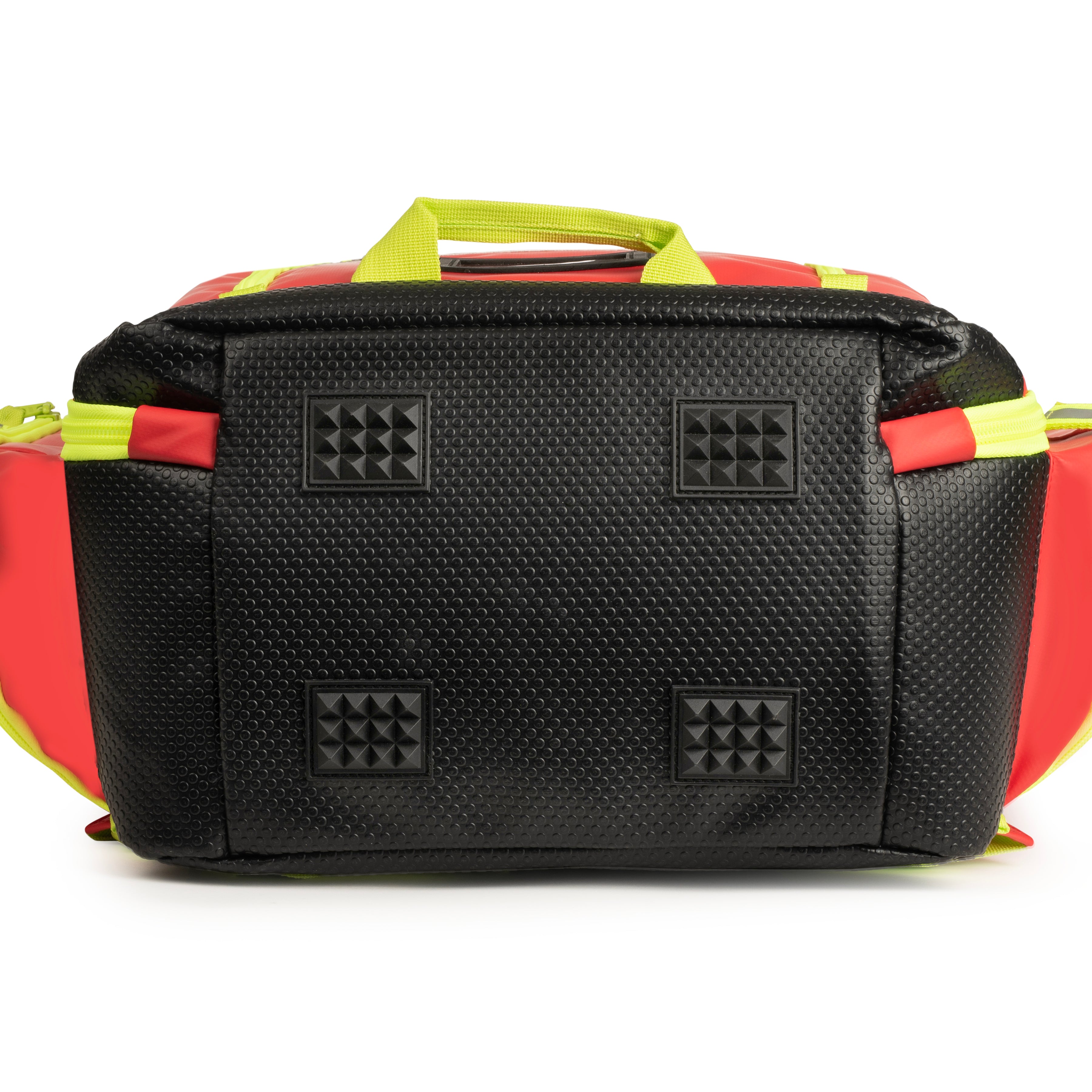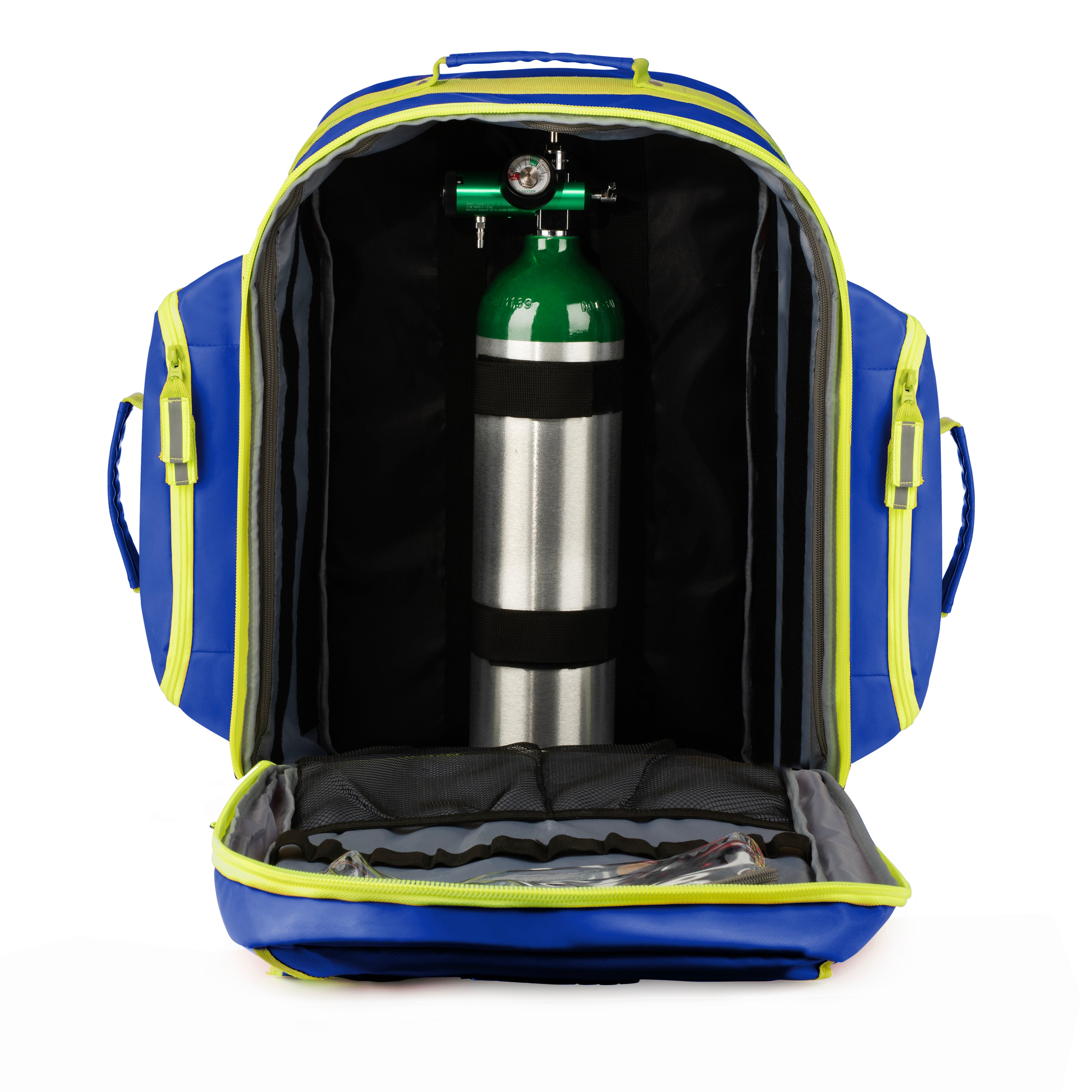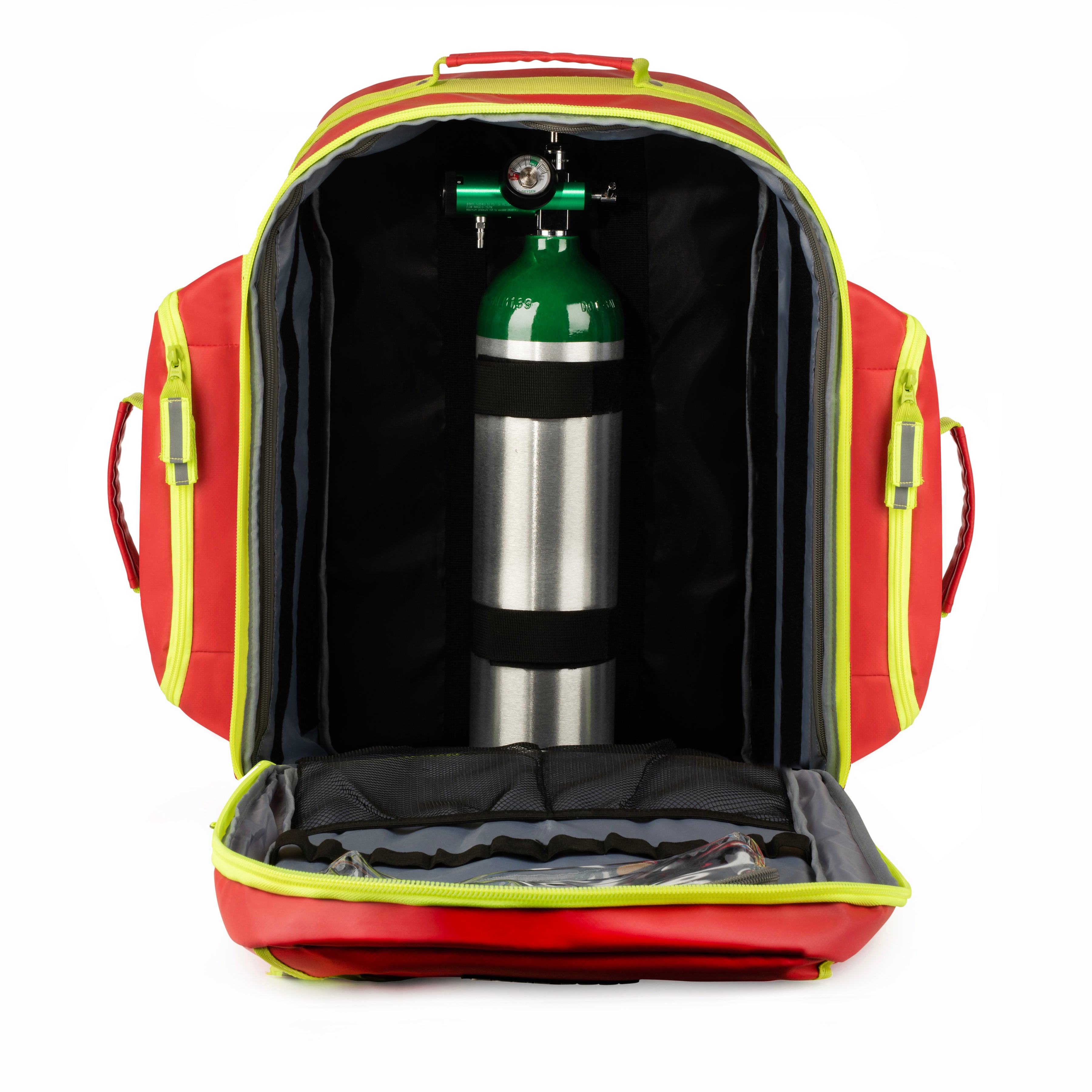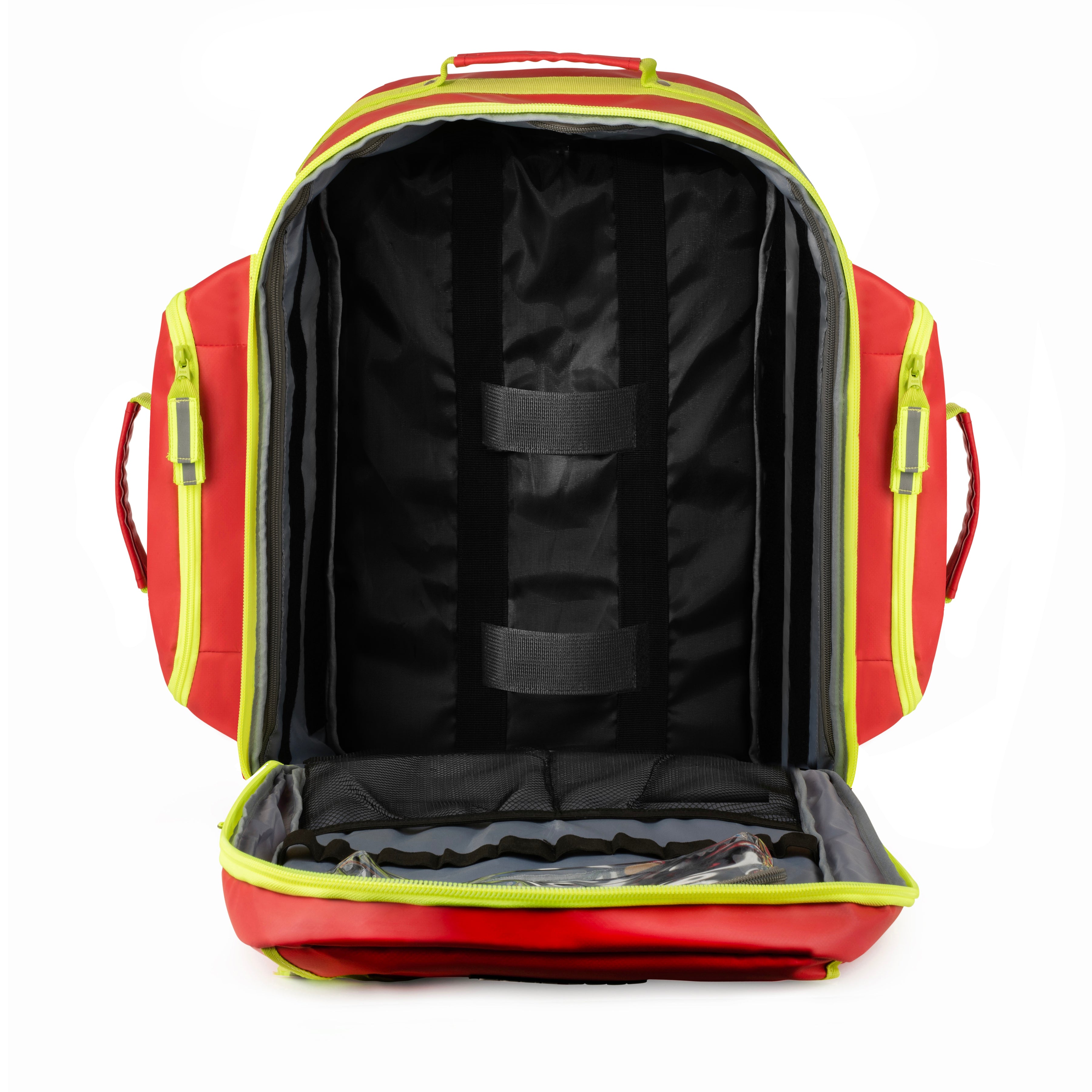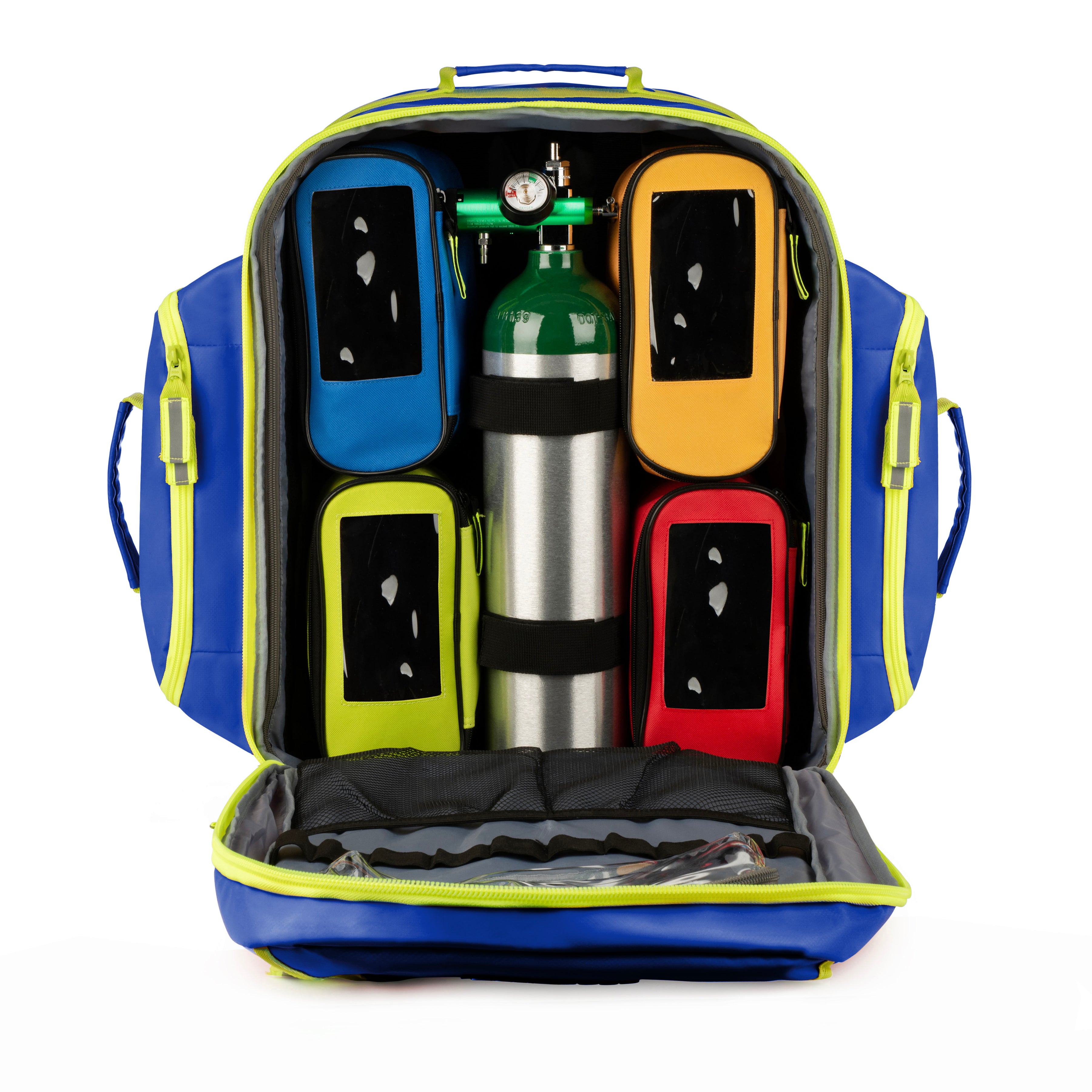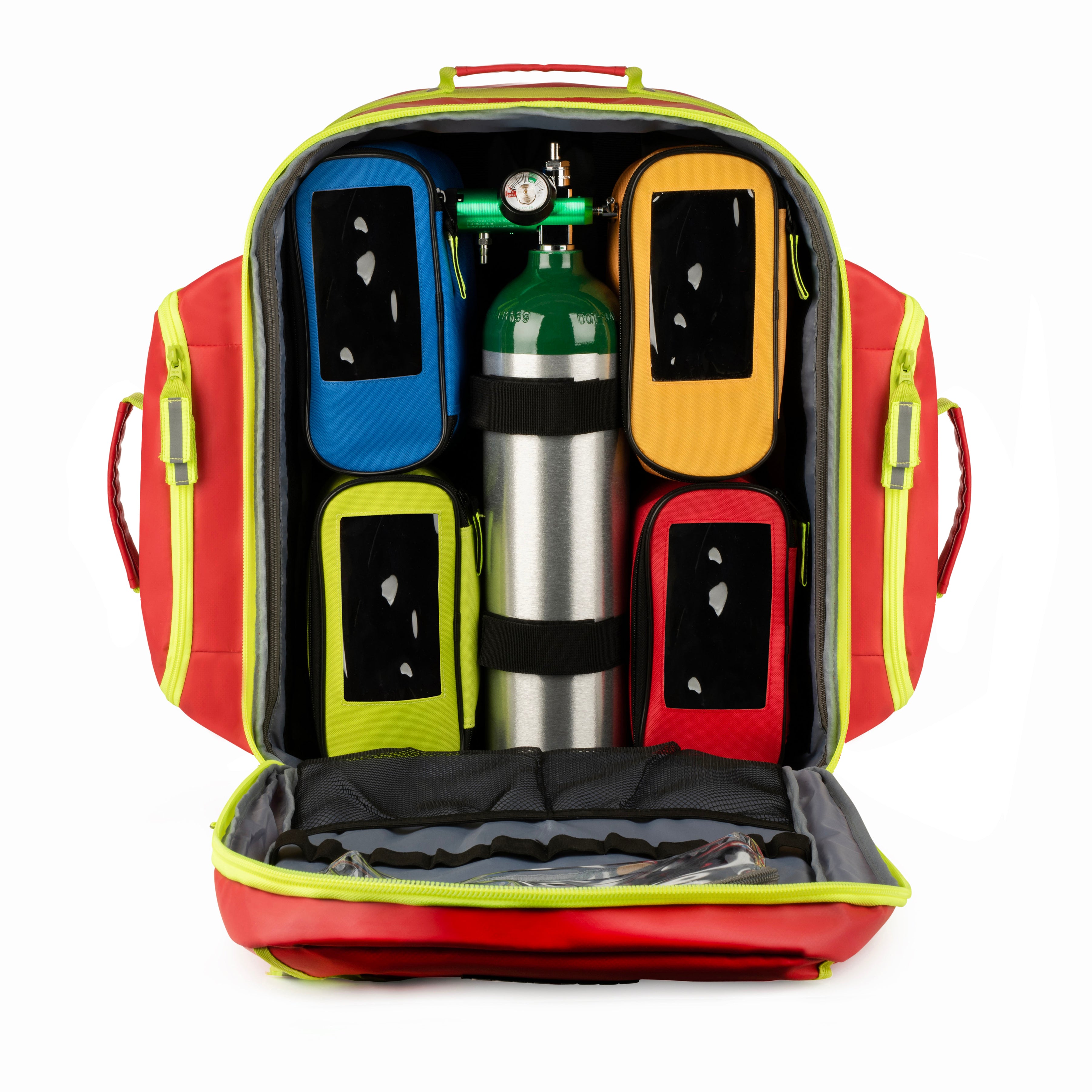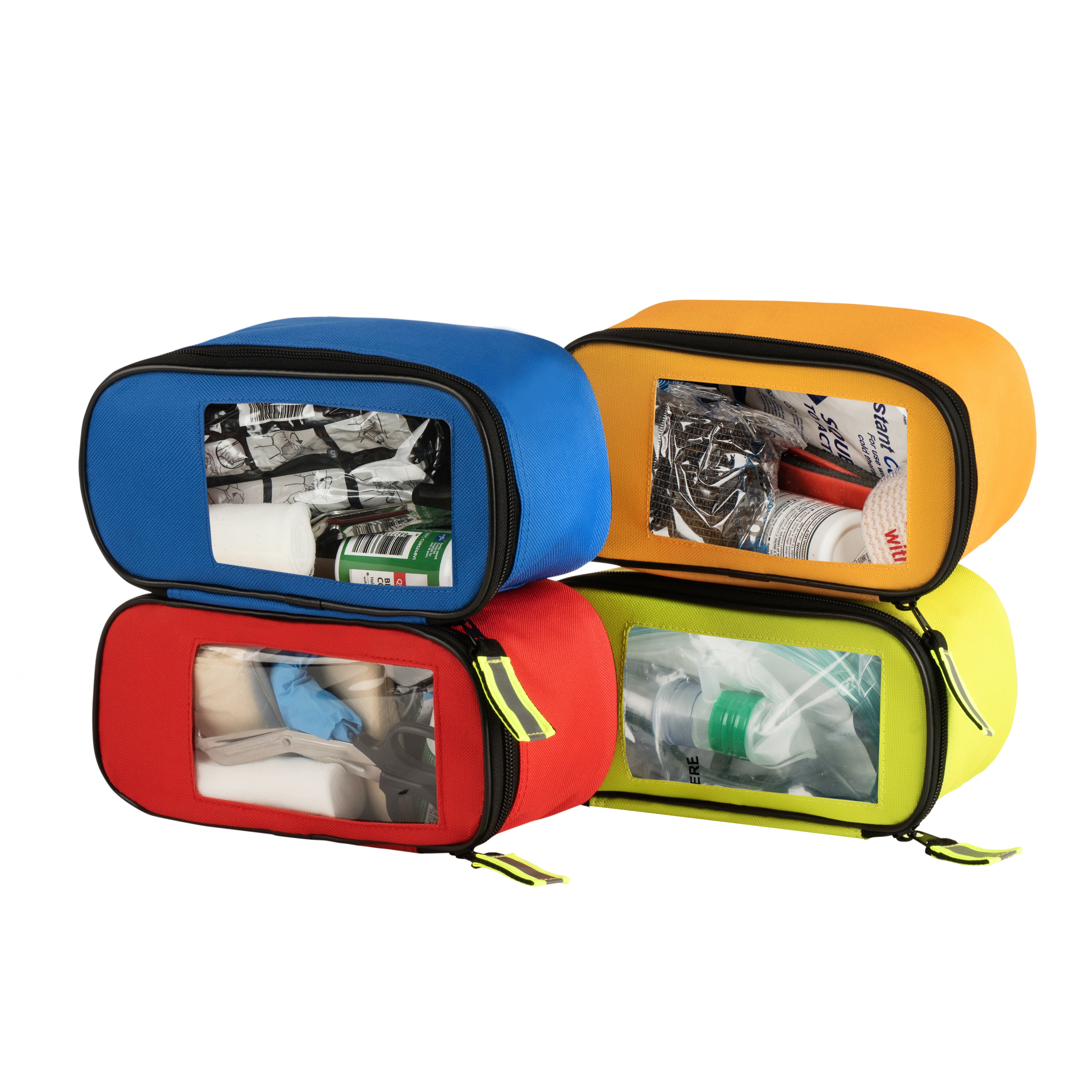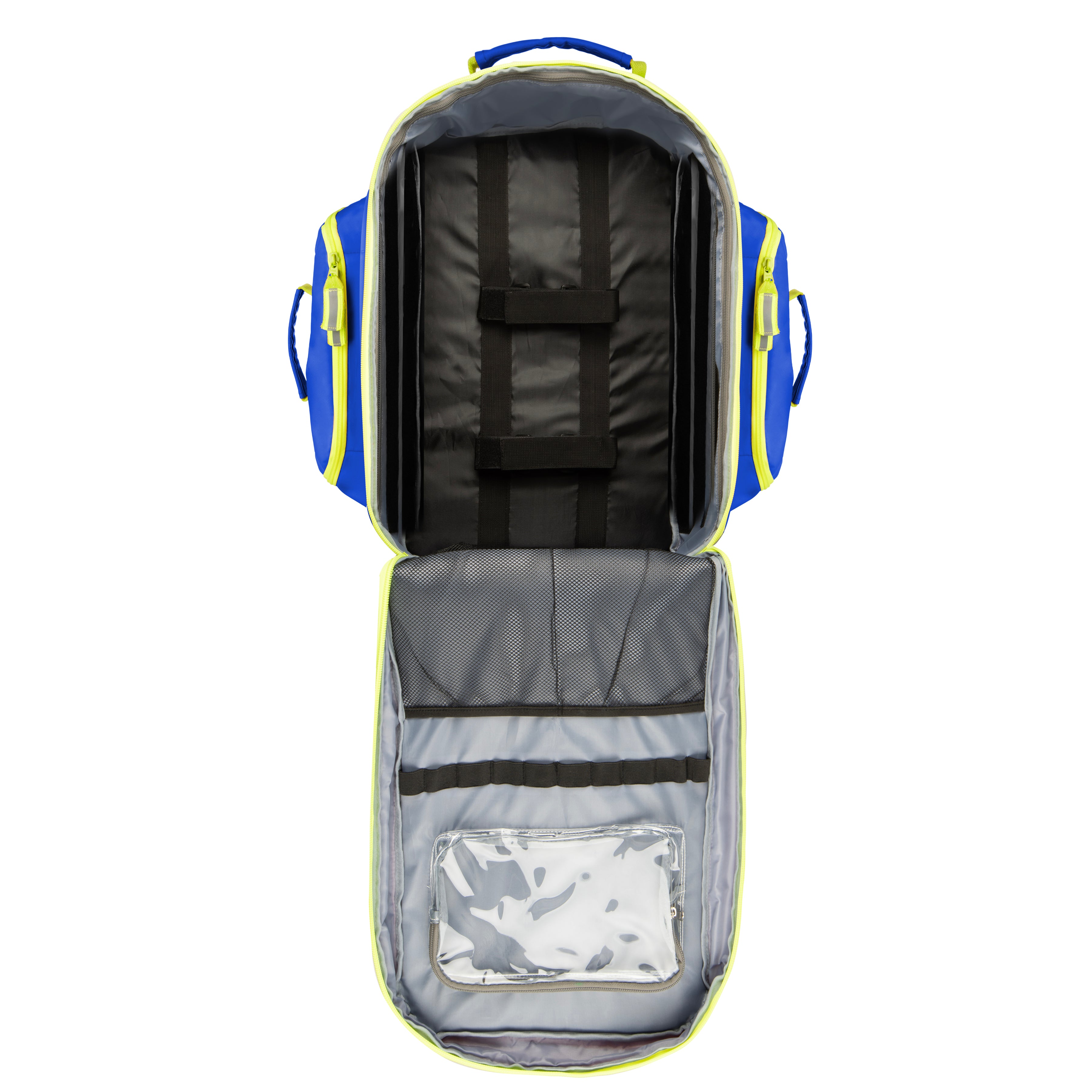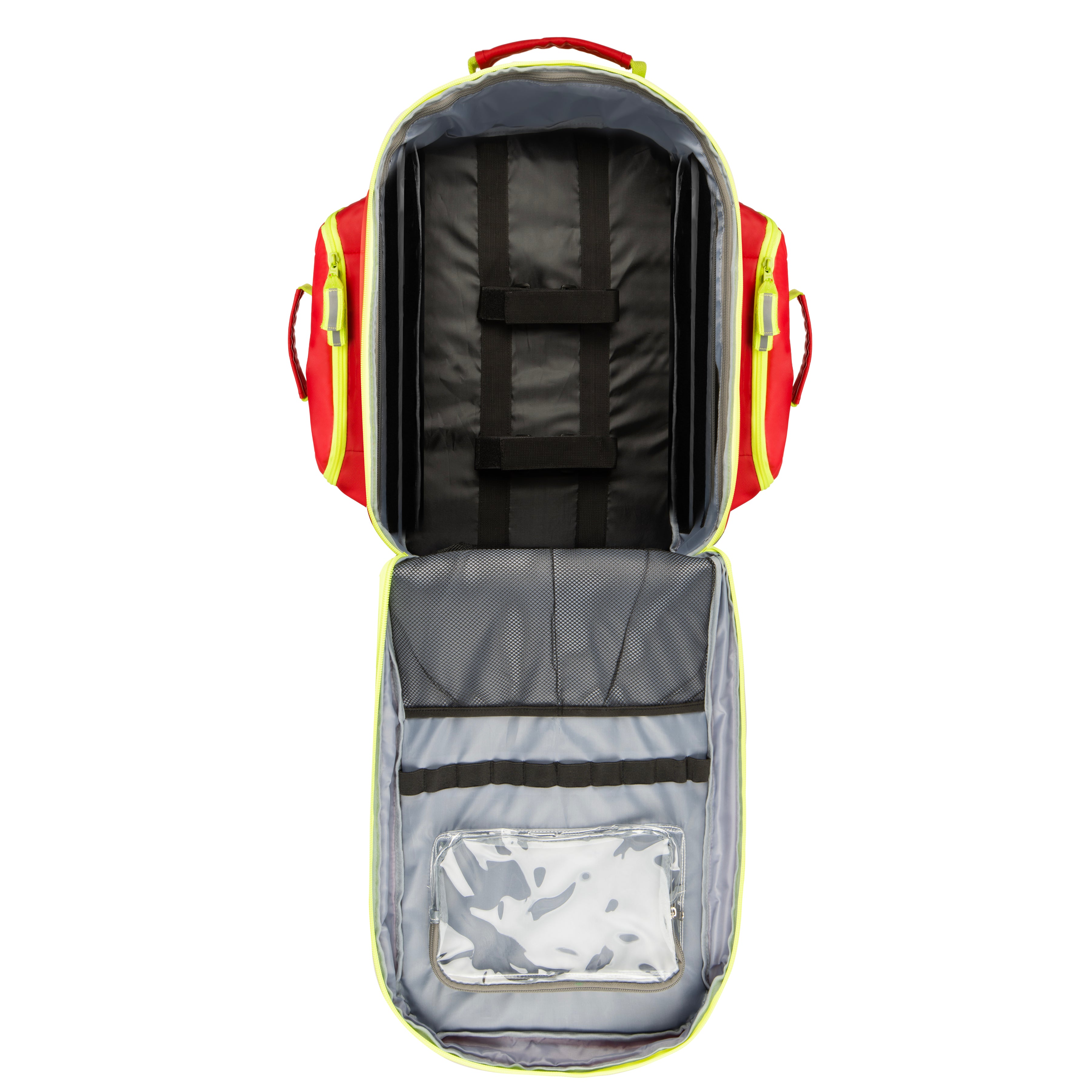 Scherber Ultimate First Responder Trauma O2 Backpack - Fully Stocked
Stocked. Styled. Ready to serve.
Whether you're looking for a high-quality EMS carrier or fulfilling your 'better safe than sorry' philosophy, Scherber saves the day! The largest model in our lifesaving lineup, this First Responder Backpack safely stores and transports everything you need to deliver prompt on-scene medical support. Durable, water-resistant TPU material protects your various supplies, while 360° reflective webbing enhances your visibility during nighttime calls. And no matter the weight of your gear, the pack's rigid, waterproof PVC bottom and thick, heavy-duty padded straps and handles take the strain off your hard-working back and shoulders—while easy-release clips allow you to strap the bag to your body for ultimate security and comfort.
By choosing our fully stocked model, you also receive an expansive collection of essential first aid supplies. Get a head start on growing your gear kit with dozens of roll gauze and pads, self-adhering bandages, cleaning wipes, exam gloves, sting and bite treatments, burn dressings, shears, nasal tubing, oxygen and CPR masks, a first aid guide booklet, and so much more. If you're ready to pursue your passion like a true professional—look no further! Add a Scherber First Responder Backpack to your cart today!
THE PERFECT FIRST RESPONSE BAG| Be Fully Stocked & Ready to Go in Case of Emergency! | High-Performance, HSA/FSA Approved Trauma Backpack Has Everything You Need to Serve with Confidence | Perfect for EMT, EMS, Fire, Police, Paramedics & Other Servicepeople | Extra Large Model Measures 22" x 14" x 8"
DURABLE WATER RESISTANT MATERIAL | Designed for Years of Wear, Tear, Use & Abuse | Constructed of Indestructible Water Repellant TPU, Rigid PVC Bottom, Thick Padded Compartments, Easy-Access Pockets, High-Quality Zipper Closures, & Reflective Striping for Visibility
7 SEPARATE POCKETS & COMPARTMENTS | Organizational System is Designed to Safely Store All Kinds of First Aid Gear & Medical Supplies| Instead of Buckles, Our Sturdy Zippers Grant You Quicker Access | 20+ Tool Loops, 4 Color-Coded Removable Pouches & Dedicated Storage for Oxygen Tank
BACKPACK OR HANDHELD OPTIONS | Thoughtfully & Ergonomically Designed for On-the-Go Personnel | Backpack Style Padded Straps Takes Weight Off Your Neck & Shoulders | Also Includes Convenient Grab Handles on all Sides for Toting by Hand | Straps Fasten Securely to Your Body to Reduce Unnecessary Movement
COMPLETE EMS PACK | Get 250+ Useful Supplies for Trauma, Bleeding, Bandaging, Oxygen/Airway, Bruises & Sprains Including Bandages, Shears, Roll Gauze, Pads, Tapes, Ointments, Wipes, Gloves, Splints, Dressings & More| Be Prepared at School, Ball Games, Concerts, Hiking, Camping, Day Care or Office
1 x QuikClot 4x4 Dressing ● 1 x Tweezers ● 1 x Kelly Forceps 5.5" ● 1 x Bandage Shears, 7.5" ● 1 x Bandage Shears, 5.5" ● 1 x Reusable Penlight - LED ● 100 x Adhesive Bandages 3/4" x 3" ● 50 x Gauze Pads 4"x 4" ● 2 x Stretch Gauze Bandage Roll 2" ● 2 x Stretch Gauze Bandage Roll 3" ● 2 x Stretch Gauze Bandage Roll 4" ● 2 x Self-Adherent Bandage Roll 2" x 5 yds ● 2 x Elastic Bandage Roll with Self-Closure 2" x 5yds ● 2 x Combine Pads 5" x 9" ● 2 x Combine Pads 8" x 10" ● 1 x Cloth Surgical Tape 1" x 10 yds ● 1 x Cloth Surgical Tape 2" x 10 yds ● 10 x Povidone Iodine Prep Wipes ● 10 x Alcohol Prep Wipes ● 1 x Triple Antibiotic Ointment, 0.5 oz tube ● 2 x Instant Cold Pack 4" x 5" ● 2 x Oval Eye Pads 1-5/8" x 2-5/8" ● 2 x Triangular Bandage, 36" x 36" x 51" ● 1 x Eye Wash 1oz ● 4 x Nitrile Sterile Exam Gloves ● 1 x Finger Splint ● 1 x Glucose Gel, 15g ● 10 x Sting & Bite Pads ● 1 x Sphygmomanometer Blood Pressure Cuff ● 1 x Sprague Rappaport Stethoscopes ● 1 x CPR Rescue Barrier Mask Kit ● 1 x Oral Airways (Berman), 40, 60, 80, 90, 100, 110mm Kit ● 1 x Multi-Trauma Dressing Sterile 12" x 30" ● 2 x Nasal Cannulas Tubing 7 ft ● 2 x Oxygen Mask Elongated Non-Rebreather ● 1 x Manual Pulmonary Resuscitator (MPR) Bag ● 1 x Splint Rolled 36" ● 1 x Transparent Dressings 4" x 4 3/4" ● 1 x Adjustable Cervical Collar ● 1 x Hydrogel Burn Spray 1.8oz ● 1 x First Aid Antiseptic Spray 2oz ● 1 x Emergency Survival Rescue Blanket 84" x 52" ● 1 x Quick Stop Hemostatic Blood Stop Spray .81oz ● 1 x Quick-Release Reusable Tourniquet ● 1 x First Aid Guide Booklet ● 2 x Hydrogel Impregnated Gauze Dressing 4" x 4" ● 1 x Oxygen Regulator CGA 870, 0-15 LPM ● 1 x Aluminum "D" Oxygen Tank Cylinder (empty) ● 4 x Clear Color-Coded Pouches
GOVX ID MILITARY DISCOUNT
To thank you for your service, we've partnered with GovX to offer a discount on our store.
Save up to 10%
This offer is eligible for:
Current & former U.S. military
Military spouses & dependents
First responders including law enforcement, fire, and EMS
Federal, state, and local government employees
Teachers (K-12 and University teachers/staff)
How it works:
Click the button to claim your discount and you'll be asked to verify your affiliation with GovX ID. Verification is real-time and secure. If you already have a GovX ID account, just log in!
After you verify, you'll receive a single-use discount code to apply at checkout. Be sure to copy your code.
For future purchases, simply log in with your GovX ID to unlock a new discount code.
There is a limit of one discount code per day.